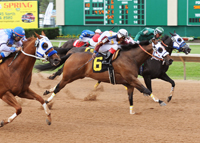 Cash At The Line
-photo by Coady Photography
Cash At The Line Lives Up to His Name and Takes Three-Way Photo Finish in the $18,500 Tower of America Stakes at SHRP
(Saturday, May 23, 2009) - Sam Houston Race Park hosted the $18,500 Towers of America Stakes race on Saturday, May 23. As part of the extended 12-race card, the stakes race featured several top American Quarter Horse stakes winners, including Dashin Tres, Jess Flashy, Cash At The Line and Six Moons Streakin. In a photo finish, it was Cash At The Line that won by a head in the 10th race with a time of :27.042. The favorite, Dashin Tres (5-2), and Six Moons Streakin both rallied late in the seven-horse field.
Cash At The Line, a six-year-old gelding, was ridden by jockey David A. Alvarez, trained by Judd Kearl and owned by Julie Irwin Cotton.
"He broke well, but really came on at the end," commented Alvarez. "And that's what won it for him because he needs a few more yards in distance."
The gelding has done well at this distance, garnering first or second place in most of his 550-yard races. "We gave him an out at Remington, only 350 yards so it was short," said Kearl. "But we did a good job getting him ready again for this distance."
Cash At The Line paid his betting fans $14.20. Six Moons Streakin finished in second, with Stone Star Jumper in third. They were followed past the line by Dashin Tres, Jess Flashy, Mr Oklahoma Express and My Philosophy.
Saturday's live racing event was followed by a performance from the Verizon Wireless Concert Series on the Bud Light Stage with The Point Birthday Bash featuring A Flock of Seagulls, Gene Loves Jezebel, Dramarama and When In Rome.