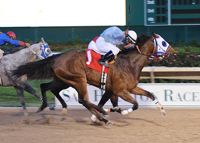 DM Traffic
-photo Coady Photography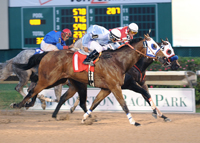 DM Traffic
-photo by Coady Photography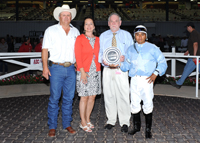 Winner's Circle presentation
-photo by Coady Photography
DM Traffic Takes Top Honors in the $15,000 SHRP Disance Stakes at SHRP
(Houston, Texas - Tuesday, May 25, 2010) - Sam Houston Race Park hosted the $15,000 SHRP Distance Stakes on Saturday, May 22nd, with DM Traffic taking first in the 870-yard race.
The ninth race on Saturday's live racing card featured seven of The Park's top Quarter horses. DM Traffic is trained by Kie Mushinski and owned by Donna Mushinski. The four-year-old brown gelding kept the pace for most of the 870-yard race before being pushed at the final pole by one of this meet's top jockeys, Luis Vivanco. DM Traffic won by a head in a time of :46.47 and a speed index clocked at 89.
"He's good about keeping the pace for the field and always seems to have that little bit of extra energy at the end to blow past his competitors at the finish," commented a thrilled Mushinski. "That's what sets this horse apart from the rest. He's a tough competitor."
With 6-1 odds, DM Traffic paid his betting fans $9.20 for the win.
Final placement featured Big Bad N Brown in second and JC My Diamond Man in third, followed past the wire by Snow Me The Paddick, Blue Ribbon Dash, Thats The Man, and Cant Pass Me.
In addition to live Quarter Horse racing events, The Park hosted Party on the Patio Steak Night featuring admission, steak dinner and a twice baked potato for just $12 along with $2 draft beer available from 4:00-8:00 p.m.