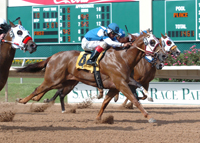 Dashin Chick
-photo by Coady Photography
Senorita Seis Upset by Dashin Chick in the $18,500 Colors of the Wind Stakes at SHRP
(Saturday, May 30, 2009) - Sam Houston Race Park hosted the $18,500 Colors of the Wind Stakes race this Saturday, May 30. Dashin Chick (6-1) kept her streak alive, winning her third race in a row in thrilling photo-finish fashion. Taking the reins on Dashin Chick in the 350-yard race was jockey David Alvarez, who guided the three-year-old filly across the finish line in a time of :17.839.
"Last year she had a lot of problems in her races, getting bumped around and run over," commented trainer Jesse Yoakum. "All you can ask for is a nice, clean race, and that's what she got."
Owned by Bernardine and Gordon R. Haslam, the filly broke well and powered through the final yards to seal the win, rewarding her betting fans with a payoff of $11.20. Senorita Seis (5-2) rushed late, finishing in second, with Check Cathy (6-1) following closely in third.
"She'll be in the Sam Houston Derby, but I'm not sure what she'll run between now and then," said Yoakum. "But I know we'll have her in another race before the Derby to keep her fresh."
The seven-horse field featured a close fourth-place finish by Teki Cetan. Blue Sue Nami finished in fifth, followed by Separate Six and Jess Pick Me.
Saturday's live racing event was followed by a performance from the Verizon Wireless Concert Series on the Bud Light Stage with Kevin Fowler and Mark McKinney.