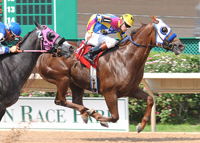 King Brimmerton
-photo by Coady Photography
King Brimmerton Holds Onto Slight Lead to Win $15,200 TQHA Sires' Cup Stakes at SHRP
(Houston, Texas - Monday, May 31, 2010) - Sam Houston Race Park held a patriotic day of live racing events and family fun with the Memorial Day Dollar Day presented by Dreyer's Ice Cream & Hebrew National Hot Dogs on Monday, May 31. The 11-race afternoon card, which featured a special 1:00 p.m. post time, was highlighted by the $15,200 TQHA Sires' Cup Stakes race, where race fans were treated to one of the most exciting races of the day, complete with an inquiry and photo finish.
The 400-yard TQHA Sires' Cup on the dirt track had a field of eight horses vying for top honors. King Brimmerton broke from the gate sharply on the inside rail and immediately was challenged by Hotlittlechicka, as well as Surviving Success, down the stretch. King Brimmerton and jockey Russel Hadley dueled consistently from gate to the wire and held on to the lead to win by a neck in a time of :19.87.
Surviving Success drifted in early, blocking a portion of the field of racers, and was ultimately disqualified from third place to last for the incident. The photo finish and review by the stewards ultimately landed Cougar Hendricks in third place.
Jockey Russel Hadley commented, "We had a good position [on the inside], and I was able to get a good ride from this horse today. We took on challenges from other racers but ultimately held on to a slight lead and pulled off the win. It was a fun ride for both of us!"
King Brimmerton is owned by Bobby D. Cox and trained by John S. Buchanan. He paid out $7.60 for the win.
Final placement was: King Brimmerton followed by Hotlittlechicka and, after the disqualification of Surviving Success, Cougar Hendricks landed in third. Favored A Stoli Mate checked in fourth, trailed by Sought After, The Unit, and Dashin Tres, with disqualified Surviving Success falling to last place in the standings.
The Park's Memorial Day Dollar Day event presented by Dreyer's Ice Cream & Hebrew National Hot Dogs featured live racing along with admission, programs, hot dogs, ice cream, sodas and draft beer for just $1 each. The program also included live entertainment from Dirt & Diesel and the Zach Edwards Band as part of the 2010 Verizon Wireless Summer Concert Season on the Bud Light side stage.