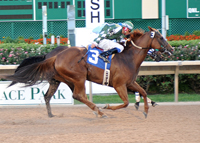 Heza Marquette Maker
-photo by Coady Photography
Heza Marquette Maker Wins $25,000 Governors' Cup Marathon at SHRP
(Houston, Texas - Saturday, June 12, 2010) - Sam Houston Race Park hosted the $25,000 Governors' Cup Marathon (G3), an 870-yard dash on the dirt track for three year olds and up, as the featured race on Saturday, June 12. The eighth race on Saturday's live racing card featured the most exciting and narrowest winninh margin the night.
Blue Ribbon Dash broke gracefully from the gate on the hook race and set the pace for the field of five horses. Blue Ribbon Dash continued to hold a slight lead until the final stretch, where the seven-year-old favorite, Heza Marquette Maker ($2.80), challenged the leader from the outside in an all out duel to the wire. A photo finish revealed that Heza Marquette Maker, clocking in with a speed index of 99, barely claimed the win by a nose in a time of :45.54. The track record of :44.53, set in June 2006 by Bens Decked Out, still remains intact.
Both trainer R.L. Rick Robinson and jockey Luis Ramirez seemed as surprised and excited as race fans when the winner was officially announced. Jockey Ramirez was all smiles heading into the winner's circle for the trophy presentation and gave the crowd an enthusiastic two thumbs up as he headed back to the jockey's room.
When asked about this horse's potential to pull off close wins at longer distances, trainer Robinson replied, "I thought we lost from where I was standing. It was that close of a race!" He went on to comment that Ramirez and the horse had a great ride. According to Robinson, "This horse loves to run and has since he was a three-year old."
Although plans for the winning racer were not immediately know, Robinson indicated that they might be headed to Lone Star in the near future.
Final placement was Blue Ribbon Dash in second and Just Blink in third, followed past the wire by Snow Me The Paddick and Cant Pass Me.
In addition to live Quarter Horse racing events, The Park hosted Party on the Patio Steak Night, featuring admission, steak dinner, and a twice baked potato for just $15, along with $2 draft beer available from 4:00-8:00 p.m.