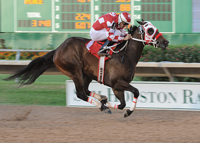 Six Toast
-photo by Amber Watts/Coady Photography
Six Toast Wins the $38,300 Bank of America Texas Maiden Challenge at SHRP
(Houston, Texas - Saturday, June 26, 2010) - Sam Houston Race Park hosted nine live Quarter Horse races, with the $38,300 Bank of America Texas Maiden Challenge highlighting the live race card, on Saturday, June 26. The eighth race on tonight's card, the Bank of America Texas Maiden Challenge featured nine horses racing a distance of 350 yards. Alamitos Rhythm was a late scratch in the race. Trial races for the Bank of America Texas Maiden Challenge were held on Thursday, June 10.
Six Toast (8-1) qualified in the fastest time. However, Hot Traffic (3-1) sat as the morning line favorite going into tonight's stakes race. Six Toast is trained by Toby Keeton and was guided by one of The Park's leading jockeys, Raul Ramirez, Jr.
As the racers broke from the gate, Six Toast easily worked his way into the lead position in front of the pack and managed to, somewhat effortlessly, maintain a winning margin of three lengths down the stretch as he galloped across the wire in time of :17.60, paying out $7.00 to betting fans. Whata Brimmerton, who gained some ground on the winning horse as they neared the finish line, crossed in second, with a photo finish for third revealing Zomin For Coronation crossing the line ahead of First Ruby For Me.
Trainer Toby Keeton commented on the runaway win by saying, "This has always been a great horse; we just had a few problems with him last year, and we got him back this year, and he's just been doing really well."
Keeton noted that Six Toast will participate in the Dash For Cash Derby at Lone Star Park later this year, and that will be the last race for the three-year-old racer in 2010.
Final order of finish featured Six Toast first, Whata Brimmerton in second, and Zomin For Coronation coming in third. They were followed past the wire by First Ruby For Me, BF Brimmer, Tostarita, Hot Traffic, Specialsitsi Warrior, and Heza Tres Seis.
In addition to live Quarter Horse racing events, The Park hosted Party on the Patio, featuring hot food from the outdoor grill and $2 draft beer available from 4:00-8:00 p.m. The Park hosts Party on the Patio almost every Saturday night through August 14. Following live racing events, The Showgrounds hosted a Verizon Wireless concert on the Bud Light stage with performances from Salomon Robles, La Sonora Tropicana and Los Reyes del Camino.