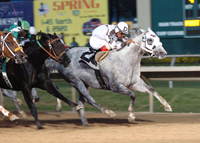 Racing Streak
-photo by Jenifer Juelsgaard/Coady Photography
Racing Streak Back in the Winner's Circle in the $24,250 Silestone Stakes on July 4th at SHRP
(Saturday, July 4, 2009) - Sam Houston Race Park hosted an All-American Independence Day Celebration featuring the $24,250 Silestone Stakes, a 350-yard race for Texas-bred fillies and mares three years of age and up, on Saturday, July 4. Favorite Racing Streak (3-1) crossed the finish line first in a time of :17.98. Guiding the four-year-old mare across the finish line was jockey David Alvarez. Racing Streak is owned by Jerry Windham and trained by Thomas Zarate.
"This was all in God's hands, and we're so proud of her efforts," commented Zarate. "I also thank the breeding of Jerry Windham. This is a good mare, and we're glad to see her back in the winner's circle."
Racing Streak was coming off of a second place finish in the $25,000 Eastern Distaff Challenge at Delta Downs on May 23 following a win in the $15,000 TQHA Texas Stakes at Manor Downs on April 18.
"I'm proud of her. She broke well and held on strong," Alvarez said.
Racing Streak paid her betting fans $5.80 for the win.
Final order of finish in the nine-horse field was Sixes La Jolla in second, followed by Jess Pick Me in third, XO Kate, Running First, A River Dance, Eye On The Jury and Senorita Seis.
Additional featured races this weekend were the $16,675 Colors of the Alamo Paint Futurity and the $10,500 Colors of Texas Paint Stakes.
The $16,675 Colors of the Alamo Paint Futurity featured 10 horses running a distance of 350 yards. The winner, Judys Rocket To Cash, is trained by Bobby Touchet and owned by Jerry Neil Leavell. Jockey David Alvarez collected his second stakes win for the evening, guiding the two-year-old colt to a winning time of :18.48. Final placement featured Aintscaredaflyin in second, followed by JNL Champagne Lineage, Six Point, Slick Angel, Grand Diamonds, Isdazzlinginbed, Hand On Hip, Double Dashing and Double Your Destiny.
The $10,500 Colors of Texas Paint Stakes, a 400-yard dash, featured Corys Doll crossing the wire first in a time of :20.51. The three-year-old filly is trained by Dwayne "Sleepy" Gilbreath and was ridden by jockey Jose Montoya. Final placement featured Could Be A Paint finishing second, followed by Jubious Illusion, A Lil Bit Paint, Such A Dasher and Kiss The Money Honey.