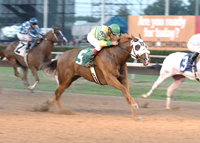 Treasure Gol
-photo by Coady Photography
Treasure Gol Claims $15,000 Colors of Texas Paint Stakes at SHRP
(Sunday, July 20, 2008) - Tonight's feature at Sam Houston Race Park was the $15,000 Colors of Texas Paint Stakes, presented by Chevron Lubricants and Whitener Enterprises, for racing paint horses. Favorite Treasure Gol, a 3-year-old filly owned by Jerry D. Chapman from Waco, Texas, drew off under rider James Brooks, crossing the wire of the 400-yard stakes race in :20.471. Trained by Vicki Lea McIlvain, the Texas-bred filly broke well and defeated eight-year-old gelding Powerhouse Hero.
"This is her fourth win in a row," said Chapman. "We didn't race her as a two-year-old because she was a little sick, so we took her home and turned her out and got her healthy. She lost by three inches in her first race but hasn't lost since. She's a great filly and will run here for the [TPHBA Derby] trials and then the final in September."
The TPHBA Derby Trials will run on Friday, August 15, followed by the $15,000 TPHBA Derby (Grade 3) final on Saturday, September 6.
Brooks was excited about the victory with "this being the first time riding Treasure Gol." He went on to say, "She is really a great filly, and I really let her do everything. I knew she had the race the whole time, and I'm blessed winning my first time on her."
Treasure Gol paid $4.00 as the first betting choice. Powerhouse Hero ran second, and Jubious Illusion ran third.
Rounding out the night's events was the Verizon Wireless post-race concert series on the Bud Light stage by country artist Blake Shelton at The Showgrounds.