Caliente Wrangler
-photo by Coady Photography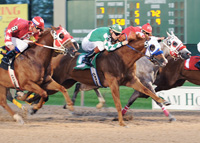 Speeding
-photo by Coady Photography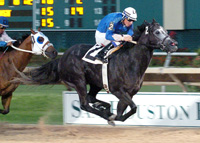 RC Red Velvet
-photo by Coady Photography
$15,000+ Texas Twister Stakes, Wiener Dog Races and More on July 17 at SHRP
(Houston, Texas - Saturday, July 17, 2010) - Sam Houston Race Park held three divisions of the $15,000+ Texas Twister Stakes on Saturday, July 17, 2010. All three Texas Twister stakes races will feature 3-year-olds and up sprinting a distance of 110 yards on the dirt track.
Race 6 was the first stakes race and featured eight horses vying for top honors in the Texas Twister. The favored horse for the first Texas Twister stakes, Calientes Wrangler, garnered his second stakes race and third overall win at Sam Houston Race Park, finishing in a time of :6.88. The four-year-old is trained by the 2009 Trainer of the Meet Bobby Touchet, owned by Efren Garcia Ramirez, and was ridden by jockey David Alvarez.
Calientes Wrangler, who reached a blazing speed index of 108, paid his betting fans $4.20 for the win.
Race 6 finished with Royal Daydream in second and Executive Looks in third, followed by Prime Fees, Royal Shake Em Fever, Vodka With Ice, Rd Sno Jo and Ace Cinnan.
The second featured Texas Twister stakes was Race 7 and featured seven more of The Park's top sprinters. Morning line odds favorite, RC Grimm, was held to a disappointing second place finish when Speeding beat him out by a neck. The three-year-old sorrel filly is trained by John S. Buchanan, owned by Sylvia Shaw Pitman, and was ridden to victory by jockey Russel Hadley. This marked the filly's first win at Sam Houston Race Park when she finished the race in a time of :6.99. Speeding paid her betting fans $17.00 for the win.
The remainder of the field featured RC Grimm in second and Sol Warlock in third, followed by A Quick Royal, Newarcos Bambina, Shezanascar and Tooty O Toole.
The final Texas Twister stakes of the night was Race 8, with a post time of approximately 8:12 p.m. The favorite in this race, RC Red Velvet, had a commanding win and finished in a time of :7.07. The four-year-old gray mare now holds a record of six wins in 13 starts at Sam Houston Race Park and came into this race with two consecutive wins nabbed here in June.
RC Red Velvet is owned by A.D. Maddox, trained by James Gerhards, and was ridden by jockey Luis Ramirez.
The remainder of the eight-horse field featured Fleet Eileen, Sought After, Hot Charge, The Candy Express, Pac N Zoom, Ja Gols Temptation and Shazoom Dashing.
In addition to live racing events, The Park held the 3rd Semi-Annual Wiener Dog Races, presented by PETCO and Bark's 5th Avenue, and featured Charlie, owned by Scott and Brittany Madden, garnering first place this year. Also on Saturday was Party on the Patio, featuring outdoor patio seating on the Pavilion Apron area, hot food off the grill and $2 draft beer from 4:00 – 8:00 p.m.