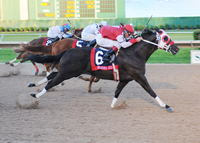 Brimmies Alli Bi B
-photo by Coady Photography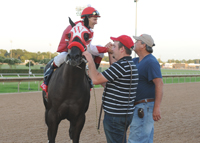 Brimmies Alli Bi B
-photo by Coady Photography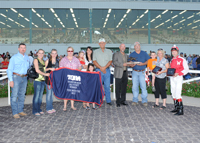 Winner's Circle Trophy Presentation
-photo by Coady Photography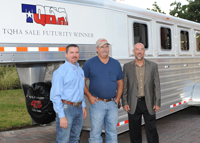 Trailer Giveaway Presentation
-photo by Coady Photography
Longshot Brimmies Alli Bi B Wins the $400,000 TQHA Sale Futurity (RG1) on Saturday, July 31st at SHRP
(Houston, Texas - Sunday, July 31, 2010) - Sam Houston Race Park hosted the 12th Annual Texas Quarter Horse Association (TQHA) Summer Showdown on Saturday, July 31, 2010. Saturday's card featured the largest stakes race of The Park's 2010 American Quarter Horse meet, the $400,000 TQHA Sale Futurity (RG1), which showcased two-year-old Quarter Horses that passed through the 2009 TQHA Yearling Sale ring, qualified and remain eligible for the race. Brimmies Alli Bi B pulled off an impressive upset win against a tough field of nine accredited Texas-bred Quarter horses in the 8th race of the night. The two-year-old black filly is trained by Eddie Willis and was guided across the finish line by jockey Jimmy Brooks.
This win marked the second consecutive win for Brimmies Alli Bi B, giving her a perfect 2-for-2 record at Sam Houston Race Park. Brimmies Alli Bi B broke sharp from the starting gate and drew clear down the stretch to win in a remarkable time of :17.53. Her speed index topped out at a blazing 103.
Brimmies Alli Bi B was the longshot, therefore paying her betting fans $42.40 for the win. Trainer Eddie Willis was awarded the winning TQHA Sale Futurity trailer compliments of Gulf Coast 4 Star Trailers following the stakes race.
Final placement in the 350-yard race for two-year-olds featured the morning line odds favorite and fastest qualifier Jazzy Sixes in second and Fettish in third, followed by Gols Honey Money Pop, Executive Precision, Endless Ocean, Bb Azoom, Jakes Charming Jody, Eyza It and McM Shes Oceans Away.
The 6th race of the night was the $62,730 Adequan Texas Derby Challenge (G3). The Adequan Texas Derby Challenge featured three-year-old Quarter Horses racing a distance of 400 yards. The favorite, Diamond For Jess, came out ready for the stakes race and proved best in his third win in only six starts at Sam Houston Race Park. The three-year-old gelding is trained by R.L. Rick Robinson and was ridden by jockey Luis Ramirez.
Diamond For Jess posted an incredible speed index of 103 and finished the 400 yards in a time of :19.68. Final placement in the 10-horse field featured Ms Riptide in second and Gjr Snowman in third, followed by Nancys Ocean, Azoomin with Jessie, Golly Zee, Ja Call Collect, Hotlittlechica, Get Down Boy and Shazooms Golden Boy.
In addition to live racing, The Park hosted Party on the Patio BBQ Bash, and the Verizon Wireless Summer Concert Series on the Bud Light stage featured a concert from Luke Bryan and Whiskey Myers, presented by The New 93Q, immediately following live racing events.