Moonshine Memories
-photo Coady Photography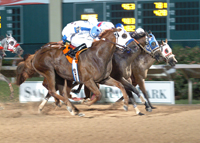 Hawk Fan
-photo by Coady Photography
Second Fastest Qualifier Moonshine Memories Finishes Strong to Upset Favorite BT Special Game in the $59,200 Sam Houston Maiden Classic at SHRP
(Saturday, August 1, 2009) - Sam Houston Race Park hosted the $15,000 Woodland Stakes on Friday, July 31 and the $52,900 Sam Houston Maiden Classic on Saturday, August 1.
In Friday night's Woodland Stakes Hawk Fan (8-1) swept the field, closing out on favored horse Coups De Ville (5-2). The three-year-old gelding took a wide turn in the 870-yard dash, but closed strongly at the finish winning in a time of :47.144.
"This horse has been doing well at this distance," commented trainer John Stinebaugh. "We started him out at the shorter sprint, 300 yards, but are pleased at how well he is doing at the longer distance."
Hawk Fan, owned by Al Renner and ridden by jockey Alfonso Lujan, paid his betting fans $16.40 for the win.
Final placement in the seven-horse field featured Hawk Fan, Coups de Ville, followed by Manifold in third, Stealing Dreams, Pretty Dashin Bye, Quick Flow and Travling Val.
Saturday's live race card featured the $52,900 Sam Houston Maiden Classic. Moonshine Memories ($5.80), the second fastest qualifier in trials run on Saturday, July 18, had a shaky start, but finished strong winning the 350-yard sprint in a time of :17.768. The four-year-old mare is owned by Jerry Vaughn Whittle, trained by Dwayne "Sleepy" Gilbreath and ridden by jockey Jose Alvarez.
"I thought she did well in the trials, winning her race," commented Alvarez. "She ended up with the second fastest time. Everyone got off to a rough start out of the gate, but she did a good job finishing strong."
Final placement in the 10-horse field featured Moonshine Memories, Crafty Dinero in second, followed by Fleet Hawk, Shazama Rama, Adrians Knockout, Reva Gold, BT Special Game, Mr Teton Jess, Foxy Shazoom and Eye of Shazoom.
In addition, to live racing events, The Park held the popular Value Day and Party on the Patio in the Fun Zone every Saturday featuring outdoor patio seating on the Pavilion Apron area, hot food off the grill, $2 draft beer, misting fans and the Verizon Wireless misting tent, washer board games, Wii Guitar Hero challenge, giveaways and more.
The 2009 American Quarter Horse meet at The Park continues with live racing events Thursday, Friday and Saturday through August 29. In addition, the Verizon Wireless Summer Concert Series on the Bud Light stage at The Showgrounds continues in August with a performance by Sublime tribute band Badfish on August 8th! Tickets start at $15. For more information, visit www.theshowgrounds.com.