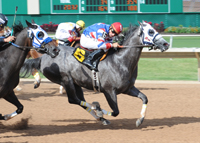 Zoomin Winner
-photo Coady Photography
Longshot Zoomin Winner Upsets Field in the $16,000 TQHA Sires' Cup Stakes at SHRP
(Saturday, August 8, 2009) - Sam Houston Race Park hosted the $16,000 TQHA Sires' Cup Stakes on Saturday, August 8, 2009. Longshot Zoomin Winner (10-1) broke well and quickly took the lead, finishing in a time of 20.252. Saddled by The Park's second leading trainer, Judd Kearl, the four-year-old gelding was ridden by jockey Rodrigo Vallejo and is owned by Mickey W. Tiner.
"I'm proud of what this horse just did," commented Kearl. "He came out as the underdog, took the early lead and held onto it."
Favored horse Special Headlines (3-1) came on strong towards the finish and barely missed catching Zoomin Winner ($12.20) by a head.
The 10-horse field racing a distance of 400 yards featured Zoomin Winner in first and Special Headlines in second, followed under the wire by Panther Purr, Cougar Hendricks, Snowy Alibi, Racing Streak, BBS First Beduino, Moving Cheval, Jess Pick Me and Red Maverick Warrior.
In addition to live racing events, The Park continues to hold the popular Value Day and Party on the Patio in the Fun Zone every Saturday featuring outdoor patio seating on the Pavilion Apron area, live music from We Are Half Nelson, hot food off the grill, $2 draft beer, misting fans and the Verizon Wireless misting tent, washer board games, Wii Guitar Hero challenge, giveaways and more.
The 2009 American Quarter Horse meet at The Park continues with live racing events Thursday, Friday and Saturday through August 29. In addition, The Showgrounds' Verizon Wireless Summer Concert Series on the Bud Light stage finished out another successful concert series with a performance from Sublime tribute band Badfish.