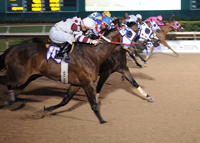 Comin Thru
-photo by Sandra Beck/Coady Photography
Comin Thru Wins $50,000 Sam Houston Classic (G2) at The Park
(Houston, Texas - Friday, August 13, 2010) - Sam Houston Race Park hosted a solid race card with 11 live Quarter Horse races, including the night's featured race, the $50,000 Sam Houston Classic (G2), on Friday, August 13, 2010.
Favored Stolis Winner was searching for his title as the richest Quarter horse in history but came up short in one of the most exciting races of the season. If the four-year-old gelding had won the Sam Houston Classic tonight, he would have become the sport's all-time leading money winner, pushing his earnings to $2,127,731 and surpassing the great Refrigerator. However, tonight's featured race was all about Comin Thru, who nabbed his fourth consecutive win at The Park. The four-year-old crossed the finish line first in a time of :21.61. Comin Thru broke sharply out of the starting gate and held a steady gain all the way up to the wire, reaching a speed index of 98. Comin Thru paid fans $16.00 for his win.
Comin Thru also collected stakes wins this season in the Barnmaster Sprint Stakes (RG3), which was part of the TQHA Summer Showdown events, and the Silestone Stakes. Both stakes wins took place in July. Comin Thru is trained by 2010 Leading Trainer of the Meet Judd Kearl and was guided across the finish line by jockey Rodrigo Sigala Vallejo.
"This horse is a tremendous athlete," commented Kearl. "I wasn't sure how he'd do at 440 yards, but he stepped up and showed us he's capable of winning at this distance."
Owner Mickey Tiner praised his trainer, stating that Kearl "is one of the sport's best trainers and a really hard worker."
"We owe this win to Judd," added Tiner. "He works hard seven days a week and does an excellent job."
Judd S. Kearl claimed his third Trainer of the Meet title and closed out the season with 53 wins in 177 starts and purse money totaling in $329,910. Kearl, who owns and operates Ashwood Farms, has notched five career training titles overall in Texas, from Manor Downs in Austin to Lone Star Park in Dallas, Texas.
Kearl notes one of his top accomplishments for the Sam Houston meet includes Comin Thru, a regular stakes winner ranked in the top ten for the 2010 American Quarter Horse Meet at Sam Houston Race Park. Comin Thru has seven wins in 19 starts and purse money totaling in $97,142.
Final placement in the 10-horse field featured Point Of Deception in second, followed by a dead heat for third between Charal Kid and King Brimmerton. They were trailed by Mon Ti Stoli, Stolis Winner, Bertha Venation and Blue Louisiana Jolla in a dead heat, That's An Azoom and Miss Kips Streakin.