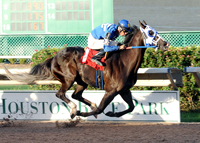 First Royal Feature
-photo by Coady Photography
Barney Ofield
-photo by Coady Photography
Northernete
-photo by Coady Photography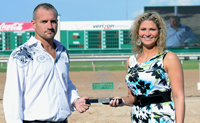 Trainer of the Meet Judd Kearl
-photo by Coady Photography
Owners of the Meet J. B. & Sherrie Morace
-photo by Coady Photography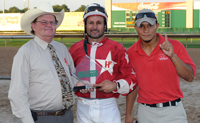 Jockey of the Meet Rodrigo Vallejo
-photo by Coady Photography
First Royal Feature Wins the $48,300 Sam Houston Maiden Classic at SHRP
(Houston, Texas - Saturday, August 14, 2010) - Sam Houston Race Park hosted its final evening of American Quarter Horse racing on Saturday, August 14, with a total of seven live races highlighted by three stakes races totaling over $100,000 in purse money.
The sixth race of the night, featuring the largest purse on the card, was the highly anticipated $48,300 Sam Houston Maiden Classic, presented by Spring Chrysler-Jeep-Dodge. The 350-yard race showcased three, four and five year old maidens as of July 6, 2010, who qualified and remained eligible. Favored horse First Royal Feature ($6.80) broke sharp and took charge of the race, setting the pace early on and finishing with a clear-cut win in :17.59. The three-year-old brown gelding, trained by Dwayne "Sleepy" Gilbreath, was guided to this repeat victory by jockey Gaspar Garcia, who was all smiles entering the winner's circle.
"This horse gives it all he's got every time," said Garcia. "He didn't break too well, but he recovered quickly and had a good charge to the finish, so I am really happy tonight."
The remainder of the nine-horse field finished with Drenalin in second. A photo finish revealed Zenato as the third place finisher, followed by Mr Jess Kue, Corona Confidential, Game Toole, Deflowered, Goose Bumps and Double Dealin N Cash.
The fourth race of the night was the $26,025 Texas Paint Horse Breeders' Association (TPHBA) Maturity (G3). Barney Ofield, a four-year-old sorrel gelding sired by Judys Lineage, claimed top honors, beating out favored Aintscaredaflyin with a lightening quick time of :17.70. Barney Ofield stumbled as he broke from the gate but managed a steady drive among the other racers, crossing the wire by a neck ahead of Aintscaredaflyin and reaching a speed index of 97. The horse is coming off what appears to be an unstoppable winning streak with tonight's victory marking three in a row. Barney Ofield, who paid out $5.40 to betting fans, is owned by Julie Haywood and Joni Willis, trained by Eddie Lee Willis, and was ridden by veteran jockey Jimmy Dean Brooks.
The TPHBA Maturity is for paint horses ages three and up racing a distance of 350 yards. Final placement for the field was: Barney Ofield, Ainscaredaflyin, Judys Rocket To Cash, Takin On The Hero, I Do One Two Three, Allysa, Jubious Illusion, Grand Diamonds, Action Figure, Speed Bandit and Zee Player.
The fifth race featured the $33,860 Colors of Houston Futurity (G2), with eight horses sprinting a distance of 350 yards on the dirt track. Favored Rockin To First was seeking her third consecutive win but was upset in a final charge to the wire as the Bobby Touchet-trained filly Northernete gained command and grabbed the win with a final time of :17.86. The Texas-bred two-year old, who topped out with a speed index of 93, is owned by Larry Sherwood and was ridden by jockey David A. Alvarez.
Final placement was: Northernete ($8.20), followed by Dashin Mohawk, Moons Image, Sharp Trouble, Country Marauder, Double Dashing Girl, Turbo Judy and Rockin To First.
2010 Sam Houston Race Park End of Meet Awards
Claiming his third title as Sam Houston Race Park's 2010 Trainer of the Meet was Judd S. Kearl, with 53 wins in 179 starts and purse money totaling in $336,889. Kearl, who owns and operates Ashwood Farms, has notched five career training titles overall in Texas, from Manor Downs in Austin to Lone Star Park in Dallas. Kearl notes one of his top accomplishments for the Sam Houston meet includes Comin Thru, a regular stakes winner ranked in the top ten for the 2010 American Quarter Horse Meet at Sam Houston Race Park. Comin Thru has sixwins in 18 starts and purse money totaling in $67,142.
J.B. and Sherrie Morace were named the 2010 Owners of the Meet. Mr. and Mrs. Morace celebrate their first owner title at The Park. J.B., who resides in Hockley, Texas, says "he's raced in New Mexico, Oklahoma, and Louisiana, but loves racing at Sam Houston Race Park because it's their home track."
J.B and Sherrie Morace, seasoned veterans at Sam Houston Race Park, finished the 2010 American Quarter Horse Meet with 23 wins out of 82 starts and a total purse of $101,878.
In true racing fashion, the race for the 2010 Leading Jockey title came down to the wire, with seasoned rider Rodrigo Sigala Vallejo taking home top honors. Vallejo, who earned 47 wins in 178 mounts this season and an impressive $417,231 in purse money, proudly accepted his award from the in the winner's circle following the final race of the night.
Rounding out the final night of live racing was The Park's popular promotion, Party on the Patio, featuring outdoor patio seating, hot food off the grill, and $2 draft beer specials from 4:00 to 8:00 p.m. Immediately following live racing events was the last post-race concert for the 2010 Verizon Wireless Summer Concert Series on the Bud Light stage, featuring The New 107.5 The Eagle Rock & Races Day, with performances from the Loverboy, Scandal, and The Fabulous Thunderbirds.