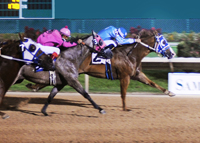 Sought After
-photo Coady Photography
Jodys Money Pop Upset By Sought After in the $20,000 Texas Twister Stakes at SHRP
(Saturday, August 15, 2009) - Sam Houston Race Park hosted the $20,000 Texas Twister Stakes presented by IKON Office Solutions on Saturday, August 15, 2009. Favored Jodys Money Pop
(2-1) charged at the finish but was upset by a nose by Sought After (6-1). Sought After, owned by Eleazar Martinez, Sr. and trained by Yasmine Medina-Fierro, returned to the winner's circle to claim his second-straight stakes win. His last stakes race victory was the The Park's $23,750 Stephen F. Austin Stakes on Saturday, June 20.
"This is a new distance for him, so we weren't sure how well he'd do," commented Medina-Fierro. "But I think he looked very comfortable at this distance, breaking well and holding off the favorite at the finish."
The five-year-old gelding was saddled by jockey Donaciano Arriaga, who has guided the horse to victory in three of their four races together.
"I feel comfortable on this horse," commented Arriaga. "We understand each other, and when you're comfortable, the horse will know and the race will be much smoother."
Sought After paid his betting fans $18.80 for the win.
The remainder of the 10-horse field going a distance of 110 yards featured Jodys Money Pop in second, XO Kate in third, followed by Ace Cinnan, Intergalactica, Surviving Success, Sixes La Jolla, Pac N Zoom, Eye On The Jury and JW Rocks.
In addition to live racing events, The Park held the popular Value Day and Party on the Patio in the Fun Zone, which takes place every Saturday and features outdoor patio seating on the Pavilion Apron, hot food off the grill, $2 draft beer, washer board games, music, giveaways and more.