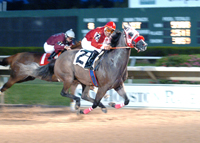 XO Kate
-photo by Coady Photography
XO Kate Wins The $20,250 Texas Twister Stakes at SHRP on Saturday, August 23
(Saturday, August 23, 2008) - The $20,250 Texas Twister Stakes was short and sweet for winner XO Kate on Saturday, August 23, 2008 at Sam Houston Race Park. The race highlighted Texas-bred Quarter Horses, three years old and up, sprinting a short distance of 110 yards. The three-year-old filly is owned by Isidro Flores and trained by Rodolfo Sanchez.
"I knew this was going to be a pretty hard race because she wasn't working out good and hasn't done too well in her past few races. She has gotten sick a lot since last year's Sam Houston Futurity, but I think she finally feels better. She rested and is feeling better. Next, I think we'll take her to Blue Ribbon Downs in Oklahoma," commented Flores.
XO Kate broke first out of the gate and crossed the finish line in a time of :6.807. Jockey Santos Carrizales took the reins for the filly tonight and commented, "I've been riding horses for a long time, and you just hope for a good break in this kind of race."
After breaking sharp and driving to a quick lead, Carrizales had only praise for the filly who was sent off at 9-2. "She ran great out of the gate, and she felt ready to run while waiting in the gate. It felt very natural for me and seemed natural for her to run this short distance."
Final order of finish was XO Kate ($11.00) by a head, followed past the wire by Imazoomertoo, Chief Corona, Jo Edna, Heza Two Timing Man, Surprisingly Special, Eyes Moving Easy, Heza Shaker, Mr Bisiesto, and Quickid Perry.
Next Friday, August 29, Sam Houston Race Park will feature the $50,000+ Sam Houston Classic Handicap (G2) for three-year-olds and up running a distance of 440 yards, followed by the $35,000+ Governors' Cup Marathon Handicap (G3) going 870 yards on Saturday, August 30. The Park will also host live racing on Sunday, August 31, featuring the $15,000+ Sam Houston Distance Derby, and to kick off Fan Appreciation Week on Monday, September 1, fans can enjoy the $15,000+ Blue Bonnet Stakes.
Live Quarter Horse racing continues every Friday and Saturday in September at Sam Houston Race Park.