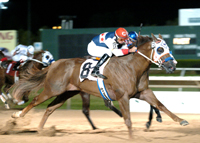 Diamond Tres Seis
-photo by Coady Photography
Diamond Tres Seis Sets New Track Record in the $61,000 Sam Houston Classic (G2) at Sam Houston Race Park
(Friday, August 29, 2008) - The $61,000 Sam Houston Classic (G2) always draws a first-class field of American Quarter Horses, and this year's edition was no different tonight at Sam Houston Race Park. Longshot On his way to victory, Diamond Tres Seis broke the current 440-yard track record that was set in the Park's inaugural Quarter Horse Meet on October 8, 1994 by Invisible Injun.
Trainer Heath Taylor, who is in New Mexico preparing for Sunday's All American Derby at Ruidoso Downs, left the saddling duties to his assistant, John Favre, and Diamond Tres Seis delivered the standout performance as he bested his eleven rivals in a time of :21.322.. The four-year-old son of Tres Seis is owned by Mercy and Ray Hinklin from Livingston, Texas.
"Wow, we're just so grateful," said Ray Hinklin. "It's one thing to win the race, but to do it in record time feels so great."
After being beaten in his last outing by Sassys Tuffy, the favorite in tonight's stakes race, Hinklin knew Diamond Tres Seis needed to do something a little different.
"He drew another hole up there in the middle of the track, and the last race he drew the one hole and it was a little heavy for him, but this time he drew up in the middle of the track, so it evened things out and helped him out a lot."
Diamond Tres Seis left the gates at 6-1 and returned $14.40 for the win. He was ridden by Gilbert Ortiz, one of the top riders at Sam Houston Race Park
"He didn't leave out of the gate too sharp today. The seven horse actually had him beat by a length-and-two-quarters, but after he saw the horse out in front of him, he pinned his ears back and started running, making it real easy for me," said Ortiz. "I didn't know we had the record once we crossed the finish line, but he deserves it and we took it."
Mr Perry Dash, also trained by Heath Taylor, ran second under rider G.R. Carter, Jr., and favorite Sassys Tuffy finished in third place, followed by Heza Fast Classic, Zoomin Winner, Sin Tacha Perry, El Zapatista, Thewayitallwentdown, Run Perry Run, Sory Nokita Bola, and Mambo Chill.
Diamond Tres Seis earned $36,600 for tonight's effort and improved his lifetime record to 11 wins from 17 starts and an impressive Park record of six wins from seven starts. Hinklin thinks he'll take the horse to El Paso next, but will leave the final decision up to Taylor.
Live racing continues on Saturday, August 30 with a ten-race card highlighted by the running of the $35,000+ Governors' Cup Marathon Handicap. Blue Ribbon Dash, winner of several top-graded stakes at this year's Retama meet, is the 9-5 favorite. The seven-year-old Texas-bred gelding will be ridden by James N. Brooks.
The extended Labor Day weekend racing schedule will include live racing on Sunday, August 31, featuring the $15,000+ Sam Houston Distance Derby. On Monday, September 1, the $15,000+ Blue Bonnet Stakes will kick off Fan Appreciation Week at The Park.
Live Quarter Horse racing continues every Friday and Saturday through September 13.