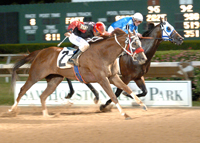 Wood Climber
-photo by Coady Photography
Wood Climber Wins $42,000 Governors' Cup Marathon Handicap at Sam Houston Race Park
(Sunday, August 31, 2008) - A field of seven top distance horses took center stage in tonight's feature at Sam Houston Race Park, the $42,000 Governors' Cup Marathon. The stakes runners included 2007 AQHA Texas Distance Horse Champion Blue Ribbon Dash, but for the third time this meeting, it was Wood Climber who prevailed, winning the 870-yard stakes in a time of :45.686.
Wood Climber was the AQHA Claiming Horse Champion and one of the Top Accredited Texas-bred runners in 2007. Co-owned by D. Prewitt, K. Hogan, and C. Maze of Houston, Texas and trained by Toby Keeton, the five-year-old gelding was ridden to victory by Santos Carrizales.
"I just bought this horse for some clients and have only had him for eight days," said Keeton. "So this is a very sweet win for us. He's a nice horse, and we hope to take him up to Lone Star after this."
After being unseating in a faulty start, his rider Carrizales commented, "He did break out well even after breaking through the gates early. Then he began to relax good around the turn, and I knew he had some kick at the end, so when I asked him to turn it on, he did."
Garnering his fourth consecutive win, Wood Climber (9-2) paid betting fans $11.60 for his win. Blue Ribbon Dash finished in second, followed by Just Blink, Natural Task, Bridlewood Tin Man, Fasterthan a Bullet, and Friends Rare Form.
The extended Labor Day weekend racing schedule will include live racing on Sunday, August 31, featuring the $15,000+ Sam Houston Distance Derby. On Monday, September 1, the $15,000+ Blue Bonnet Stakes will kick off Fan Appreciation Week at The Park.
Live Quarter Horse racing continues every Friday and Saturday through September 13.