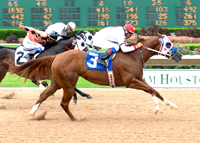 Zazoom
-photo by Coady Photography
Zazoom Captures $20,250 Bluebonnet Stakes at SHRP
(Monday, September 1, 2008) - Zazoom powered past her 10 rivals in commanding fashion, capturing today's feature race at Sam Houston Race Park, the $20,250 Bluebonnet Stakes. The Texas-bred filly, owned by M.C. Morris, captured her fifth consecutive win this year.
Trainer Heath Taylor, who is in New Mexico preparing for today's All American Derby at Ruidoso Downs, left the saddling duties to Noel Saenz. "I help Heath out every once in awhile," commented Saenz. "He's in Ruidoso for today's big race."
Zazoom's last win came on July 5 in the $94,000 Firecracker Derby at Delta Downs. "Next up for this horse will probably be a big race at Lone Star," said Saenz.
Zazoom was ridden by Manuel Garcia, who took the reins after a late jockey change. The three-year-old daughter of Shazoom won today's effort by three-quarters of a length, crossing the wire of the 400-yard stakes in :19.651.
"The horse broke good. I got bumped in the middle, but the horse overall ran good," noted Garcia. "I rode the horse once before, so I knew the horse would come on strong at the end."
Zazoom (6-5) paid $4.60 for her win. Painkiller ran second, followed by Separatist Free, Streak N Runaway, Jess Pick Me, One Game Chick, Anna Pavlova, Miss Nosey Celeb, Dashin Hazel, and Miss Cb Ten.
Next weekend The Park will host the $100,000+ Sam Houston Futurity (G1) on Friday, September 5. Live racing continues on Saturday, September 6, with the $35,000+ Sam Houston Derby (G2), the $15,000+ TPHBA Derby (G3), and the $15,000+ Colors of Houston Futurity (G2).
Live Quarter Horse racing continues every Friday and Saturday through September 13.