First Down Mr Jess crosses the wire first
-photo by Coady Photography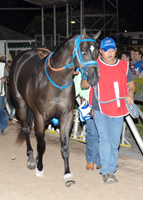 First Down Mr Jess on his way to the paddock
-photo by Coady Photography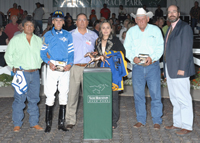 Winner's circle trophy presentation
-photo by Coady Photography
First Down Mr Jess Upsets Field in the $335,200 Sam Houston Futurity at SHRP
(Saturday, September 5, 2008) - In Quarter Horse racing, the fastest qualifier does not always win the final. The betting favorite in tonight's $335,200 Sam Houston Futurity (G1) was Show Me Your Toole (7-5), one of the fastest two-year-olds in the region. However, when the gates opened, it was First Down Mr Jess (13-1) who ran the best race of his young career, upsetting the favorite and winning his first Grade 1 stakes.
The two-year-old colt was the fourth fastest qualifier in the trial races run on August 22. Out of the gates, First Down Mr Jess dueled slightly but dug in and finished the 400-yard race in a time of :19.910. The colt is trained by C. Dwayne "Sleepy" Gilbreath and owned by Mary Carmen and Sergio Vela from Chrissema Horses LLC in McAllen, Texas.
"It's not hard to win these races when you have a good colt like this one," commented Gilbreath. "I'm just so happy for him. He's now made himself eligible for some other big races like the Dash for Cash Futurity and the Texas Classic. We may run him in both, or we may decide to rest him for one. We'll just have to see."
Guiding First Down Mr Jess across the finish line was jockey Gaspar Garcia. The two have turned out to be a tough duo to beat, winning all three of their races together.
"He didn't break out too good, but as we were coming down the lane he was able to find a clean hole," said Garcia. "He got away from me a little in the trials but still ran good, so I was confident going into tonight's race. One thing about this horse is he always gives it everything he's got."
Final order of finish was First Down Mr Jess ($28.80) by a neck over Specially Alluring ($29.00), followed by Show Me Your Toole ($2.80), Lightning Round, Brother Grimm, Zoom for Fun, Swingin N Ease, Mon Ti Stoli, Miss Sin Tacha, and Surviving Success.
The evening concluded with the final concert event for the 2008 Verizon Wireless concert series at The Showgrounds with performances by Jack Ingram and Shooter Jennings on the Bud Light Stage.
Next Saturday, September 13, will mark the final day of the 2008 Quarter Horse Meet at Sam Houston Race Park, featuring the $20,000+ TQHA Claiming Futurity.