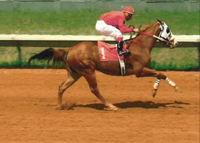 photo by Gene Wilson & Associates
Appaloosa Texas Colours Plays Catch-Up To Win Manor Downs Paint and Appaloosa Derby
(April 27, 2004) - Three-year-old gelding Texas Colours came from behind to win the Manor Downs Paint and Appaloosa Derby in Manor, Texas, April 17, 2004. What started off as a shaky outing became a catch-up game for Texas Colours as he dug in and headed for the finish line.
"He breaks so hard that he stumbles and gets behind," explained owner Jimmy Maddux of Weatherford, Texas. "But he recovered from his bad start and won by just over a length.
"He's just a tremendous competitor, and he doesn't like to lose," Maddux continued, reflecting over the past year. Texas Colours had recently recovered from running with four chips in his knee.

Texas Colours was sired by Hot Colours (AQHA) and is out of Texas Union. He finished the 350- yard race with a winning time of :18.10, earning a $5,000 purse.
Also finishing well at the Derby was 3-year-old gelding Okey Dokey Smokey, who came in second with a qualifying time of :18.15 and earned a purse of $2,000.