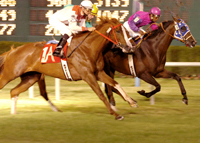 Charming Socialite
-photo by Jack Coady/Coady Photography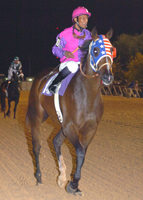 Charming Socialite
-photo by Sandra Beck/Coady Photography

Charming Socialite Returns to the Winnerís Circle in the $40,000 Buffalo Bayou Stakes at Sam Houston Race Park
Houston, Texas (November 5, 2005) - A field of 12 runners took to the John Connally Turf Course for tonight's feature, the $40,000 Buffalo Bayou Stakes. Charming Socialite, a 4-year-old gelding ridden by Larry Taylor, shot to the lead and never looked back, crossing the wire of the 1 1/16 mile stakes in a time of 1:44.54.
Trained by William Pettit and bred in Texas and co-owned by Pettit and Paul A. Sutton, Charming Socialite won the $50,000 Spirit of Texas last November at Sam Houston Race Park. He has performed admirably at all the Texas racetracks, winning the $40,000 Gold Nugget last June at Lone Star Park and winning a turf allowance on August 19 at Retama Park. His rivals in tonight's race included multiple stakes winners, Middleweight, Crowned King and Zydeco Affair. No one threatened the front-running Charming Socialite this evening.
"He doesn't know he's outclassed when he gets onto the racetrack," commented Pettit. "We'll bring him back in two weeks for Texas Champions Day."
Regular rider Taylor is off to a great start in the 2005/2006 Sam Houston Race Park Thoroughbred meeting. The 38-year-old jockey was honored as leading rider at Retama Park last month, finishing the season with a total of 58 wins. He has piloted Charming Socialite in his last nine races, winning 3 and finishing second or third in the others.
"I know his style and he doesn't like me to fight him," said Taylor. "He ran a great race tonight."
Longshot Shakethemhatersoff rallied for second under rider Iram Diego.
"I had to check my horse after the turn because the outside horse came in on us," said Diego. "This horse could have won, easy. Maybe it was my mistake for trying to go through there."
Trainer Charles Hukill, who saddled Shakethemhatersoff and Record Assembly, indicated that both Texas-bred will return on Texas Champions Day.
Middleweight, owned by Peter Gaffney and Stewart M. Madison, was sent off as the post time favorite. The 5-year-old son of Grand Slam had won five previous turf races and captured the $50,000 Sport City Handicap at Louisiana Downs. Rider Gerard Melancon thought he was in good tracking position at the top of the lane, but could not catch the winner.
"I thought I was in good shape," said Melancon. "The turf felt soft so I eased him to the middle of the track and he got even more bogged down."
Charming Socialite earned $24,000 this evening and increased his lifetime earnings to $294,010. Sent off at odds of 7-1, the dark bay gelding returned $16.80, $9.40 and $6.40 across the board. The exacta paid $$297.20 and the trifecta returned $1,305.80. The remainder of the field included Seainsky, Oncearoundtwice, Social King, Zydeco Affair, Crowned King, Breakaway, Ready Ruler, Fly Slama Jama and Record Assembly.