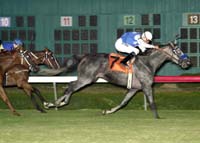 photo by Ruben Garcia/Coady Photo
photo by Coady Photo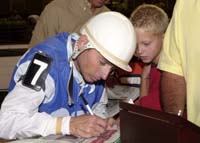 Seabiscuit poster give away at Retama Park featuring Jockey Ricky Frazier giving autographs to fans for his part as stunt man in the movie.
photo by Coady Photo
Golden Rhythm Captures $50,000 Margarita Breeder's Cup
(August 2, 2003) - Saturday night's feature drew a quality field of seven fillies and mares at Retama Park. Academic Angel, a Kentucky-bred with impressive credentials was well-fancied by the public as was second choice Golden Rhythm. These two finished a neck apart in their last race, but this time Golden Rhythm got the win picture. At least the majority of the public had the $9.60 exacta.
Ricky Frazier put the five-year-old daughter of Rhythm in striking position right out of the gate. Sitting third behind the pace setting Tyger River, Frazier was content to wait till top of the stretch to kick his mount into high gear. Royal Academy appeared to be struggling, falling back to next last in the fist half of the race and had to fight to hold of Caustic Remark for second.
For Frazier, who sat out the first half of the year for the Seabiscuit movie, it was a big night. Ricky notched his first win of the year earlier in the evening on She's The Future in the sixth race.
"When you have been riding as long as I have, it's not so difficult to come back," Frazier said. Frazier's mount got the 1 & 1/16th mile in 1:44.1 over a firm turf course.