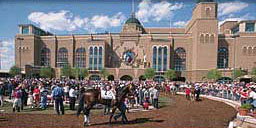 Texas Thoroughbred Association's Two-Year-Olds in Training Sale Tuesday at Lone Star Park
Grand Prairie, Texas (Friday, March 31, 2017) - Have you ever thought about owning your own racehorse? This could be the perfect opportunity! The Texas Thoroughbred Association has catalogued more than 100 horses for the second annual Two-Year-Olds in Training Sale at Lone Star Park. The sale will begin Tuesday, April 4, in the Texas Thoroughbred Sales Pavilion at Lone Star Park at 2:00 p.m. An under-tack show previewing the prospects will begin Monday, April 3, at 9:00 a.m. (postponed from Sunday, when originally planned, due to weather conditions).

"The catalogue has been well received, with a record amount of requests," said Tim Boyce, Texas Thoroughbred Association's Sales Director. "After having seen the consignments train in the morning, I am confident buyers who come will be pleased with what they see. This has been a great sale for 'diamond in the rough' finds, and the sales past average has been a good entry level for most new owners."

Among the stakes-winning graduates of the Texas Thoroughbred Association's Two-Year-Olds in Training Sale is 2016 sale topper Bling On the Music. She has earned a total of $153,082, with wins in the Texas Thoroughbred Futurity at Lone Star Park and the Gold Rush Futurity at Arapahoe Park. She posted a third place finish in the Grade 2 Pocahontas at Churchill Downs. Another 2016 graduate, Country Candy, has earned $124,480, with wins in the Princess Stakes at Evangeline Downs and the Texas Stallion Stakes at Retama Park.

Horses that pass through the sales ring Tuesday are eligible to be nominated to one of two lucrative Lone Star Park stakes races. Both divisions of the $100,000-estimated Texas Thoroughbred Futurity will be run at five furlongs on July 22.

Videos for the under tack show will be posted online again this year at ttasales.com and an enhanced, interactive online catalog will be available allowing consignors to showcase their offerings with additional photos, videos and information.

Supplements are still being taken for the sale, and additional consignments will be announced.

For further information, contact Tim Boyce at (972) 523-0332 or visit ttasales.com.