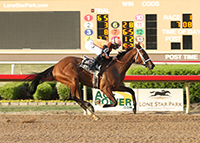 Supermason at the finish line
-photo by Dustin Orona Photography
Premiere Stakes winner's circle presentation.
-photo by Dustin Orona Photography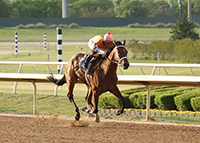 Supermason with a big lead in the stretch.
-photo by Dustin Orona Photography
Majestic City coming back after the race.
-photo by Dustin Orona Photography
A Super Impressive Performance Put Forth by Supermason in the $50,000 Premiere Stakes
Grand Prairie, Texas (Thursday, April 7, 2016) - There is no denying that Brad Grady's super fast gelding Supermason likes racing at Lone Star Park. The four-year-old son of Grasshopper out of the Midway Road mare Folksy just cinched his third win over the Lone Star Park dirt surface from six total starts here with a victory in the $50,000 Premiere Stakes. The victory marked his fifth overall from 16 career starts.
Imma Bling went right for the lead, setting the pace. Supermason and jockey Lindey Wade sat just behind, going along comfortably as if they knew the precise moment the leader would give way and the race would be theirs for the taking.

"When we broke out of the gates, I was a little worried because he stumbled the first jump, but it helped me, because the one horse [Imma Bling] got away, and I thought he would come back to me," said Wade. "I just swallowed him up, and it was easy from there."

The six-and-one-half furlong contest over a fast race track was run in 1:16.68. Posting fractions of :22.78 and :45.50, it was 7 3/4 lengths back to Spider's Alibi, who was up for second place. Favored A M Milky Way was able to hold on for third, another 1 1/2 lengths behind the top two.

At odds of 3.10-1, Supermason rewarded players with $8.20; $5.80 and $3.60. Fans of Spider's Alibi got back $21.60 and $8.80, and A M Milky Way followers were returned $3.00. Texas Bling, Solar Charge, Ring Necked, F J Uncle Vic, Internet Success and Imma Bling completed the order of finish.

Supermason increased his career earnings account to $181,355 with the addition of $30,000 from tonight's victory.

"Bret and Jay have done a great job with this horse," said owner Brady Grady. "He was slow maturing, but it looks like his four-year-old-year just may be the one."

The win was the second straight in the Premiere Stakes for trainer Bret Calhoun, increasing his win total in the Premiere Stakes to a record of five (2010, 2012-13, 2015-16). Jockey Lindey Wade is not far behind. He has the record of four wins in the Premiere Stakes - the most of any rider.