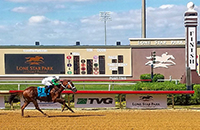 Mocito Rojo
-photo Dustin Orona Photography
Mocito Rojo Notches First Graded Stakes Victory in the Grade 3, $300,000 Steve Sexton Mile at Lone Star Park
Grand Prairie, Texas (Sunday, April 28, 2019) - Mocito Rojo, owned by Wayne T. Davis, notched his first graded stakes victory $300,000 Steve Sexton Mile (Gr. III) at Lone Star Park on Sunday. The five-year-old horse by Mutadda, who shipped in from Louisiana, is trained by Shane Wilson.
Guided by jockey Filemon Rodriguez, Mocito Rojo raced five to six wide on the first turn and settled on the outside. Advancing near the half, he rallied wide four to five wide on the far turn, making a bid at the five-sixteenths, then took the lead and was clear in the final sixteenth, finishing two lengths in front of favorite King Abner.
According to trainer Wilson, "He ran some big races in the wintertime. He had some 115, 114 speed figures, and we got to looking around at some of the Grade 3s are running 108, 109s, and you know you want to take a step and try something like this. But you're always nervous because maybe he can do it against lesser competition, but not against better horses, and he stepped up and did it like we hoped he would. He's just been a dream come true. Every time we've stepped him up, he's responded and run bigger, every time. He's been a dream. We'll see how he comes out of this, and we'll spot him in some good spots hopefully."
Fractions for the mile were :23.84, :46.83, 1:11.15 and 1:23.93. Final time was 1:37.06 over a fast main racetrack.
With the $165,000 winner share of the purse, Mocito Rojo upped his career earnings to $484,750. It was his 14th win from 22 career starts and his first graded stakes win.
Mocito Rojo went off at odds of 5.20-1 and returned $12.40; $6.20 & $4.00. The betting favorite was second placed King Abner at 2.20-1, and he returned $4.60 and $2.40. Title Ready was third and returned $2.60 for show. Air Strike was fourth, followed by Shotgun Kowboy, G's Turn, Phat Man, Forevamo, Analyze This Jet and Minister of Soul.