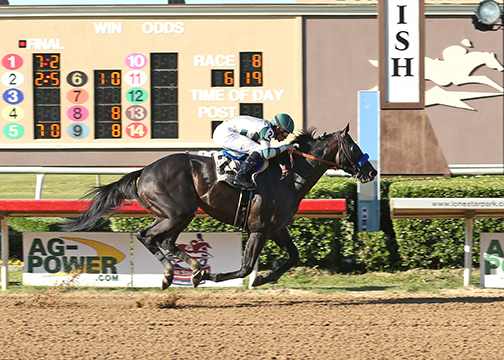 Mor Spirit at the finish line
-photo Dustin Orona Photography
Steve Sexton Mile winner's circle presentation.
-photo Dustin Orona Photography
Mor Spirit and jockey Mike Smith after the race.
-photo Dustin Orona Photography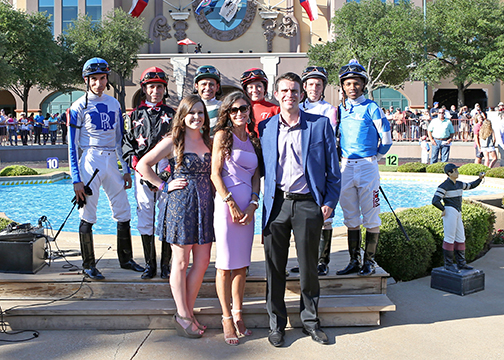 Steve Sexton Family with jockeys from left: 1st row - Kalli, Kim & Taylor Sexton, 2nd row – Iram Diego, Luis Quinonez, Mike Smith, Sasha Risenhoover, Ken Tohill & Ricardo Santana, Jr.
-photo Dustin Orona Photography
Mike Smith Pilots Mor Spirit to Victor in Sunday's $200,000 Steve Sexton Mile (G3) at Lone Star Park
Grand Prairie, Texas (Sunday, May 7, 2017) - Michael Lund Peterson's Mor Spirit was much the best winning by 5 3/4 lengths in Sunday's $200,000 Steve Sexton Mile (Gr. III) at Lone Star Park. Ridden by Mike Smith, Mor Spirit was hustled to the lead, where he set the pace off the rail, drew off under the whip in the final sixteenth, and was much the best.
Trained by Bob Baffert, Mor Spirit is a four-yr-old son of Eskendereya out of the Dixie Union mare Im a Dixie Girl. With the victory, Mor Spirit improved his record to 12-5-5-0 and, with today's purse, became a millionaire. His total earnings are now $1,008,400.
Mor Spirit was the favorite at $0.40-to-1 and returned mutuels of $2.80, $2.20, and $2.10. Texas Chrome, ridden by Ricardo Santana, Jr., returned $5.00 and $2.80. Iron Fist, ridden by Iram Diego, finished another 1 1/4 lengths back in third and returned $2.40. Shotgun Kowboy, American Dubai, and F J Uncle Vic completed the order of finish.
Carve, 2016 winner Great Minds, and U S Officer were scratched from the race.
Post-Race Quotes Steve Sexton Mile:
Mike Smith (winning jockey, Mor Spirit): "It means a whole lot just to come here and get the opportunity to see some people I grew up with and win this race, but then to win the inaugural one being named after Steve who was a wonderful, wonderful man, I am very proud."
"It worked out really well. I was talking to Bob on the phone earlier and Jimmy, and they told me to go on and ride him out of there and that way if someone wants the lead, they're going to have to be running to do it. We were blessed to wind up on the lead, and he just turned right off and relaxed really well. It was a matter of pointing him in the right direction. They had him ready, I didn't do much. I'm good at not doing much."
Note: This was Mike Smith's first Lone Star Park stakes win. He won the 143rd running of the Kentucky Oaks at Churchill Downs on Friday.
Jimmy Barnes (assistant to winning trainer Bob Baffert): "I just to want to thank Steve's son. He's the one that called Bob and asked him to bring a special horse for this race, and Bob said, "Sure, you got it."