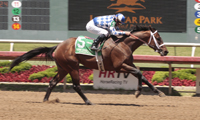 Coyote Legend
-photo by Lone Star Park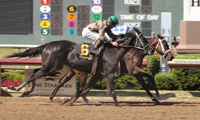 Tin Top Cat
-photo by Lone Star Park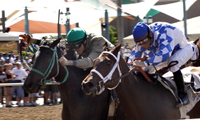 Tin Top Cat
-photo by Lone Star Park
Trainer Bret Calhoun; Jockey Bobby Walker Jr. Sweep Both Divisions of Texas Stallion Stakes with Coyote Legend and Tin Top Cat
Grand Prairie, Texas (May 8, 2010) - Clarence Scharbauer Jr.'s Coyote Legend, trained by Bret Calhoun, dominated his six rivals in winning the 7th running of the 1 1/16th miles, $100,000 Texas Stallion Stakes (Stymie Division) over a fast main track on Saturday at Lone Star Park. Royal Hay Patch finished 7 1/4 lengths behind in second, and it was another 1 ¼ lengths back to Wild Mudder in third. With Bobby Walker Jr. astride, the bay son of Gold Legend leaned in slightly out of the gate before settling into excellent striking position through opening fractions of 24.42 and 49.06. After seizing command of the lead and traveling six-furlongs in 1:13.76, Coyote Legend widened his advantage to the finish to stop the timer in 1:45.52.
"The pace was extremely slow, and when we went into the far turn, I wanted to test the leaders to see if they had anything to repel me with," said winning jockey Bobby Walker Jr. "They didn't have anything to repel me, so I sat there just a little bit longer, and when I got into the stretch, I just shook him loose."
"He's one of these horses that moves forward every day, every week, from late in his two-year-old year and throughout his three-year-old year," added winning trainer Bret Calhoun. "His most recent race (the Premiere Stakes at Lone Star Park on April 8) put him in some positions he hadn't been in before, and it was a little bit of a gut-wrencher for him, tightened him up a bit, and prepared him for this race."
With the win, Coyote Legend recorded his fifth consecutive stakes victory and improved his record to six wins from 10 starts with earnings of $255,636.
Coyote Legend paid $3.00, $2.10, Royal Hay Patch returned $7.00 to place, there was no show wagering. Completing the order of finish were: Wild Mudder, April's Picture, El Oso, Winding Road, and Big Texas Daddy.
Tin Top Cat is Tops in Got Koko Division of $100,000 Texas Stallion Stakes
Jerry Durant & Bill Jordan's Tin Top Cat, trained by Bret Calhoun, turned away eight rivals to win the 7th Running of the $100,000 Texas Stallion Stakes (Got Koko Division) for three-year-old fillies over a fast main track on Saturday at Lone Star Park
Jockey Bobby Walker Jr., who had earlier won the male division aboard Coyote Legend for Calhoun, settled in behind early leader She's a Bond Girl through opening fractions of 24:39 and 49.85 then battled with that rival and Camille's Appeal throughout the far turn and a six-furlong split of 1:14.87. After putting away those two and taking the lead in the stretch, the 3-year-old daughter of Supreme Cat had to come again against second-place finisher Dixieland Baby, who briefly put a head in front, to win by a head while stopping the timer at 1:47.40 for the 1 1/16-miles distance. Camille's Legend was able to hold on for third another 2 ½ lengths back.
"I'm faster than any horse in there for an early amount, but they don't pay early," said winning rider Bobby Walker Jr. "Every time, she's two in front the first forty yards, you've got to get her back slowly. I hadn't really wanted to move yet. But when Aaron (Gryder) moved up, it forced me to go ahead and move with him. It wasn't premature; I just didn't want to be there yet because I didn't want to be put on the fence because it's a little heavier there on the fence. I just wanted to go ahead and keep up with him and keep my position established."
"She is a fighter," added Walker about the late challenge from Dixieland Baby. "You wouldn't think she would come with any more, but she reached down, got a little more and we got back in front in time. If all horses you rode gave that much effort, it would be much easier. She never quits."
"She's got a lot of heart," said winning trainer Bret Calhoun agreeing with his jockey. "It looked like we were beat inside the sixteenth pole, but she just gutted it out and refused to lose."
With her third victory in five career starts, Tin Top Cat increased her lifetime earnings to $265,324 and returned mutuel payouts of $4.00, $2.80 and $2.60. Dixieland Baby paid $14.40, $6.00 and Camille's Appeal returned $2.80 for show. Legendary Day, She's a Bond Girl, Maymeister, Miss Pepper, Gran Senora, and Timber Play completed the order of finish.