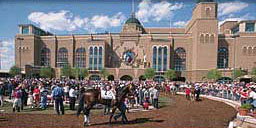 Divisional $75,000 Texas Stallion Stakes Highlight 10-Race Card Saturday at Lone Star Park
Grand Prairie, Texas (Friday, May 8, 2015) - Saturday, May 9 features the 12th runnings of the divisional $75,000-guaranteed Texas Stallion Stakes for Accredited Texas-bred three-year-olds going one mile on the dirt. Race 5 is the Got Koko division for fillies, and race 7 is the Stymie division for colts and geldings. Ten races are carded Saturday, with the first race post time at 6:35 p.m. Gates open at 5:00 p.m.
Infectious 4-5 Favorite in Filly Division
Danny Pish trainee Infectious, owned by W. S. Farish, was made the 4-5 morning line favorite. The filly by Valid Expectations out of Red Cell, by Geri is the only stakes winner in the field. She won the Bara Lass at Sam Houston in January. In her next out, the Two Altazano also at Sam Houston, she ran second behind undefeated graded stakes winner Promise Me Silver, who just picked up her eighth straight last Friday in the Grade 3 Eight Belles at Churchill Downs.

In a race that trainer Bret Calhoun has won a record four of the 11 runnings, it's hard to not pay close attention to his charge in this. He sends Douglas Scharbauer's Santacafe, who has actually beaten Infectious once. A year ago the pair, both seeking their maiden career wins, competed with each other in a maiden special weight, with Santacafe the victor. Back to even racing stats, Santacafe ran second behind Infectious in the Bara Lass. Santacafe was assigned morning line odds of 3-1.

The field from the rail out for the Texas Stallion Stakes filly division is as follows: Santacafe (Lindey Wade, 3-1); Infectious (Cliff Berry, 4-5); Tea for Two (Paul Nolan, 12-1); Special Rockstar (David Cabrera, 8-1) and Youaremyconnection (Iram Diego, 4-1).
Supermason Looks Tough in Colts & Geldings Division
Calhoun sends a pair in the colts and gelding division. The morning line favorite at 7-5, Supermason is super fast, and when he wins, he is the only horse in the photo. That's how far in front of the competition he has been in each of his three career wins. And like Infectious, he is the only actual stakes winner in this field.

A gelding by Grasshopper out of Folksy, by Midway Road, Supermason won the Jim's Orbit at Sam Houston last February. He is owned by Brad Grady.

Owner Henry Witt, Jr. also has a pair in this, trained by Amanda Barton Witt's Tax Day just missed in his last here at Lone Star, an allowance April 25, after winning an optional claiming race here on April 11.

The field from the rail out in the colts and geldings division is: Dustin E (Junior Chacaltana, 30-1); Man of Stature (Cliff Berry, 6-1); Witt Six (CJ McMahon, 12-1); Flying Frenchman (David Cabrera, 5-1); Justaphonecallaway (Larry Taylor, 20-1); Supermason (Lindey Wade, 7-5) and Witt's Tax Day (Ivan Arellano, 9-5).

Around the Track Notes: Going into week five of the meet, jockey C.J. McMahon has racked up 25 wins. Lindey Wade is in second place in the rider standings with 13 wins. Karl Broberg is on his way to his second consecutive training title if he continues the roll on which he has been. Karl has won 21 races, compared to Bret Calhoun with 13 wins. Steve Asmussen ranks third right now with eight wins. Danny Keene is atop the owner standings with 10 wins for the meet. Good luck to everyone!
Lone Star Bark Dog Races, Woof Woof
Next Sunday, May 17 has been dubbed "Lone Star Bark" bring your dog to the races day. This is our first event of its kind here at the Grand Prairie track. Bring your canine companion out and enjoy $1 hot dogs, live racing and more!

Plus, if your dog likes to run, you can enter him/her to compete in dog races. We are giving away $200 to the winners and $100 to the runners-up of each race. You can enter on our website at www.lonestarpark.com.