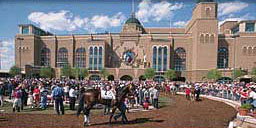 Divisional Clarence Scharbauer, Jr. Texas Stallion Stakes Highlight Nine Race Program Saturday at Lone Star Park
Grand Prairie, Texas (Friday, May 9, 2014) - The Texas Thoroughbred Association has named Saturday's divisional $75,000 Texas Stallion Stakes Series in honor of the late Clarence Scharbauer, Jr. The nine race program Saturday will be dedicated in memoriam to Mr. Scharbauer and pay tribute to him and some of his significant horses over the years.

Scharbauer played a crucial role in securing Class 1 track status in North Texas with the Texas Racing Commission. He was one of the first investors in Lone Star Park in Grand Prairie, Texas. He was the owner of Valor Farm in Pilot Point, Texas, a 393-acre world class stallion and breeding facility. His homebred horses have won over $1.7 million at Lone Star Park since it opened in 1997. His wife Dorothy and daughter Pam were the owners of 1987 Kentucky Derby and Preakness Stakes winner, Alysheba. Alysheba was also Champion Three-Year-Old Male that year. In 1988, he won the Breeders' Cup Classic and was named Champion Older Male Horse and Horse of the Year.

Industry honors that Scharbauer achieved over the years included: American Quarter Horse Association Hall of Fame Member, Texas Horse Racing Hall of Fame Member, National Golden Spur Award, or national rancher of the year, in 1991; and Texas Thoroughbred Association's Lifetime Achievement Award in 2007.

Mr. Scharbauer passed away this past February. He left his mark on the Texas Racing Industry. He has been and will continue to be missed.
Saturday's fifth race is the $75,000 Got Koko division of the Clarence Scharbauer, Jr. Texas Stallion Stakes for three-year-old Texas-bred fillies going one mile on the main track. The eighth race is the $75,000 Stymie division for three-year-old Texas-bred colts and geldings also at one mile on the track. Gates open at 5:00 p.m. First race post time is 6:35 p.m.
Scooter's Choice the 6-5 Favorite in Filly Division
Wayne Sanders & Larry Hirsch's Scooter's Choice, trained by Bret Calhoun, finished second in last year's Texas Thoroughbred Sales Futurity here at Lone Star Park, which was run last July. From there, after a six month layoff, she won the $50,000 Bara Lass at Sam Houston in January. One month later, Calhoun sent her, along with sensational filly Fiftyshadesofgold, to the $75,000 Two Altazano also at Sam Houston. She finished second to her stablemate that day, a respectable second considering that Fiftyshadesofgold in her next out finished second in the Grade II, Fair Grounds Oaks behind this year's Kentucky Oaks winner, Untapable. Fiftyshadesofgold then won the Grade III Eight Belles Stakes at Churchill Downs on Kentucky Oaks Day last week.
The direction for Scooter's Choice didn't quite pan out the same after the Two Altazano. The filly by Too Much Bling was next entered in an allowance optional claming race at Oaklawn Park March 13, where she finished sixth. Of that disappointment, trainer Calhoun said "she did not like the track." She is back on a surface she likes here tomorrow. "I think she will run big," added Calhoun.

The field from the rail out, with jockey and morning line odds listed in parentheses is as follows: Scooter's Choice (Lindey Wade, 6-5); Paddle Out (Luis Quinonez, 8-1); Thegirlinthatsong (David Cabrera, 12-1); Pretty N Fast Too (Roman Chapa, 15-1); Forever Since (Gerardo Mora, 5-2) and Swifterthantaylor (Larry Taylor, 7-2).

Scheduled post time for the Clarence Scharbauer, Jr. Texas Stallion Stakes, Got Koko division is 8:27 p.m., race 5 on the card.
Ibaka Will Likely Dominate Field in Stymie Division
Doug Wall's Ibaka, also trained by Bret Calhoun sure looks like an easy winner in the Stymie division for colts & geldings Saturday night.

The gelding by Uncle Abbie is a perfect three-for-three so far this year. He won a non-winners of two allowance in January at Delta Downs. He then won the $75,000 Jim's Orbit at Sam Houston in February under Kentucky Oaks winning jockey, Rosie Napravnik. In March, Lindey Wade rode him to a three-length victory in the $50,000 Texas Heritage Stakes, also at Sam Houston.

Ibaka has been made the 7-5 morning line favorite by Lone Star Park's odds maker, Rick Lee. Lindey Wade, 2013 Lone Star Park Champion Jockey, has the riding assignment.
The field from the rail out, with jockey and morning line odds listed in parentheses, consists of: Internet Success (Glen Murphy, 5-1); Jmac's Bling (Gerardo Mora, 30-1); Circustown Flyer (Cliff Berry, 10-1); Ibaka (Lindey Wade, 7-5); Ring Necked (Roman Chapa 6-1); Early Hot Water (David Cabrera, 15-1); Dutch Hohn (Alfredo Contreras, 20-1) and F J Uncle Vic (Ernesto Valdez-Jiminez, 5-2).

Scheduled as race eight, the Clarence Scharbauer, Jr. Texas Stallion Stakes, Stymie division has an approximate post time of 9:51 p.m.