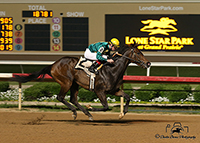 Infectious
-photo by Dustin Orona Photography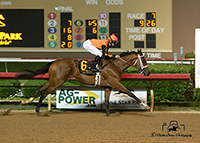 Supermason
-photo by Dustin Orona Photography
Infectious, Supermason Win Divisions of Texas Stallion Stakes Tonight at Lone Star Park
Grand Prairie, Texas (Saturday, May 9, 2015) - Favorite, Infectious, owned by W. S. Farish and trained by Danny Pish, took the prize tonight in the Got Koko (filly) division of the $75,000 Texas Stallion Stakes at Lone Star Park.
"She really enjoys her job and goes out there and gives her all," said winning trainer Danny Pish. "It's a pleasure to have one like that in the barn."

This was the second win in this division of the Texas Stallion Stakes at Lone Star Park for trainer Danny Pish. He won with Formal Flyer in 2008.

With all-time leading Lone Star Park rider Cliff Berry at the reigns, Infectious was content to settle off the pace set by Santacafe, made a bid on the far turn while three wide, took the lead near the three-sixteenth pole, and drew away to win by three and one quarter lengths.

"We just sat and watched (the pace); we were in a perfect spot," said rider Cliff Berry. "When I asked her to run a little bit, it took me a little while to get her going, but when she did, she went on."

Fractions were slow for the one mile contest. They were :25.14, :49.37 and 1:14.04 for a final time of 1:39.71 over a fast track.

With the winner's share of the purse, Infectious upped her career earnings to $115,219. This was her third win from eight lifetime starts.

Infectious was off at odds of 0.50-1 returning $3.00, $2.20 and $2.10. Santacafe returned $2.80 and $2.20 for place, and Youaremyconnection returned $2.10 for show. Tea for Two and Special Rockstar completed the order of finish.
Superfast Supermason Dominates the Stymie Division of the Texas Stallion Stakes Tonight
Named for owner Brad Grady's son Mason, Supermason got right to it tonight, gaining the lead in the first turn, setting the pace while well rated, and controlling the action while inside on the far turn. Jockey Lindey Wade turned to check the competition approaching the quarter pole. He drew off into the final sixteenth under strong urging, then was hand ridden to the finish and was much the best.
"The key to him is to get him away from there good. That way he has a chance at the lead early, and its home free from there," said winning rider Lindey Wade. "About the half-mile pole, I was able to get him off the bit and drop my hands, so I wasn't fighting with him going into the turn, which was key, if you ask me. That way, at the head of the lane, he responded when I asked him to."

Winning margin was six and one quarter lengths. Final time for the one mile race over a fast main track was 1:38.56. Fractions were :23.81, :47.33 and 1:12.00.

The favorite at odds of 0.30-1, Supermason returned $2.60, $2.20 and $2.10. Second place went to Witt's Tax Day, and he returned $3.60 and $2.40 for place. Man of Stature was third and returned $2.80. Flying Frenchman, Witt Six and Justaphonecallaway completed the order of finish.

Supermason increased his career earnings to $143,755. This was his fourth win from 11 starts.

Winning trainer Bret Calhoun and winning jockey Lindey Wade both posted their third win each in this, the Stymie Division of the Texas Stallion Stakes for colts and geldings at Lone Star Park. The pair teamed to win in 2014 with Ibaka. Wade's other win was in 2011 aboard Halifax Flyer, and Calhoun won previously in 2010 with Coyote Legend.