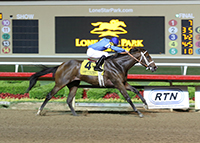 Ibaka in action
-photo by Dustin Orona Photography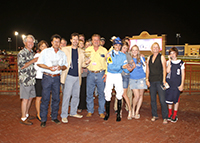 Ibaka winner's circle
-photo by Dustin Orona Photography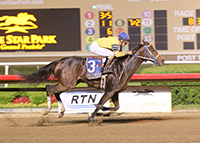 Thegirlinthatsong in action
-photo by Dustin Orona Photography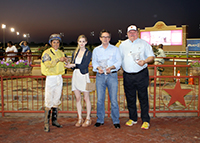 Thegirlinthtatsong winner's circle
-photo by Dustin Orona Photography
$75,000 Divisional Clarence Scharbauer, Jr. Texas Stallion Stakes Decided Saturday at Lone Star Park
Grand Prairie, Texas (Saturday, May 10, 2014) - Tonight was all about Texas Thoroughbred racing and remembering one of the passionate supporters of our great sport, Mr. Clarence Scharbauer, Jr., and it was a great night of racing indeed! The 11th runnings of the Divisional Clarence Scharbauer, Jr. Texas Stallion Stakes were contested with one upset and one favorite winning the trophies.
Thegirlinthatsong Upsets Favorite in Got Koko (Filly) Division
Thegirlinthatsong, owned by Anjo Racing Inc. and trained by Andrew Konkoly, defeated favorite Scooter's Choice in tonight's 11th running of the $75,000 Clarence Scharbauer, Jr. Texas Stallions Stakes, Got Koko division for three-year-old Texas-bred fillies going one mile.

Scooter's Choice, at odds of 0.60-1, had the lead from the start, was taken in hand early and set the pace. She was then asked at the quarter-mile marker, went under the whip near the sixteenth-pole, but was no match for a fast closing Thegirlinthatsong, who took the lead approaching the sixteenth-pole drawing away under a hand ride to win by four and one-half lengths.

"She's an honest filly, she tries hard, she's very relaxed, and when you ask her to run, she runs," said winning trainer Andrew Konkoly.

Ridden to the victory tonight by Apprentice David Cabrera, Thegirlinthatsong increased her career earnings to $160,020. This was her fourth win from 12 starts.

Fractions in the race were :24.32, :47.82 and 1:12.62, with a final time for the one mile of 1:38.53. Thegirlinthatsong returned $15.80, $5.00 and $3.60. Second place finisher Scooter's Choice returned $2.40 and $2.20. Third went to Paddle Out and she returned $3.60 to show. Forever Since, Swifterthantaylor and Pretty N Fast Too completed the order of finish.

Thegirlinthatsong is by My Golden Song out of Belle of the Band by Dixieland Band. She was bred by Clarence Scharbauer, Jr.
Favorite Ibaka Impresses in Stymie Division
In the 11th running of the $75,000 Stymie Division, favorite Ibaka won impressively. Guided by 2013's leading rider, Lindey Wade, he raced just behind the leader (Internet Success) on the outside prompting the pace, he drew even near the half-mile marker, vied on the outside in the far turn, edging clear in upper stretch to prove three lengths better than the rest under a strong drive.
Fractions were 24.23, 48.12 and 1:12.50. Final time for the mile race was 1:37.71.
"This colt is just class," said jockey Lindey Wade. "Today he showed versatility. He relaxed off the pace and around the first turn, I felt like they were going to have trouble beating me. He really came off the bit and relaxed well."
At odds of 0.90, Ibaka returned $3.80, $2.20 and $2.10. Second place went to F J Uncle Vic. He returned $4.20 and $3.60. Ring Necked in third place, returned $3.40. Circustown Flyer, Early Hot Water, Internet Success, Dutch Hohn and Jmac's Bling completed the order of finish.
With tonight's win, Ibaka increased his bankroll to $162,036 in career earnings. This was his fifth win from seven lifetime starts.
Additional Notes
Trainer Karl Broberg had his second four-win night of the week tonight. He also had four wins last Thursday. He is on top of the standings with 29 wins through 17 days of racing this meet.

Trainer Danny Pish is only three wins away from his 500th Lone Star Park win. He has two entered on Sunday's card. Go Danny!