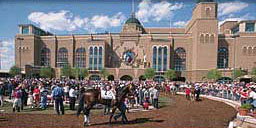 Lone Star Park Changes First Race Post Time for Saturday, June 7 - Belmont Stakes Day
Grand Prairie, Texas (Thursday, May 22, 2014) - Race fans, Lone Star Park has changed our first live race post time to 1:35 p.m. from the scheduled 3:33 p.m. on Saturday, June 7, Belmont Stakes Day.

The Grandstand gates will open at 11:30 a.m. Lone Star Park' first of 11 live races will begin at 1:35 p.m. Post time for the 146th running of the $1.5 million, Grade 1 Belmont Stakes simulcast is scheduled for 5:40 p.m. (CDT).

It has been 36 years since Affirmed won the Triple Crown. Now for the 13th time 36 years, a horse - this tme California Chrome -is in position to break the over three-and-a-half decades' long streak. If you can't get to Elmont, New York on June 7, there is no better place to cheer him on than at Lone Star Park.

Advance wagering will be available on Friday, June 6 at Lone Star Park for the entire June 7 Belmont card. Don't miss this exciting, and possibly historic day of Thoroughbred racing!