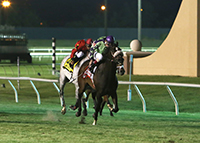 Molly's Honour in action
-photo by Dustin Orona Photography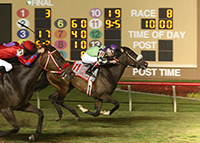 Molly's Honour at the finish line
-photo by Dustin Orona Photography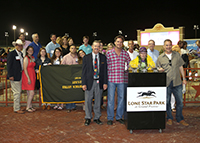 Winner's circle presentation
-photo by Dustin Orona Photography
Favorite Molly's Honour Gets the Victory in the $50,000 Guaranteed Lane's End Stallion Scholarship Stakes Saturday at Lone Star Park
Grand Prairie, Texas (Saturday, June 14, 2014) - Post time favorite Molly's Honour, a homebred owned by Joey Keith Davis and trained by Karl Broberg, got the win in the third running of the $50,000 Lane's End Stallion Scholarship Stakes for Texas-bred three-year-olds & up, fillies and mares, at Lone Star Park on Saturday.

Molly's Honour, a four-year-old filly by Etesaal, broke alertly and moved early to gain a spot just off leader Lasting Bubbles under jockey Cliff Berry. Molly's Honour held that position all the way until taking the lead just past the head of the stretch, gaining three lengths on the leader and holding off a fast-closing Expect Royalty by a head at the wire.

"The only thing I had to worry about was if she didn't break good. Then I would be stuck wide," said winning rider Cliff Berry. "But she broke sharp and there was no traffic, I got down where I wanted to be."
The Lane's End was Cliff's third win of the night.

Fractions for the seven and one half furlong distance over a firm turf course were :23.43, :46.63 and 1:10.61, for a final time of 1:29.03, a new stakes record.

"It's exciting to have a homebred win our first stakes race here at Lone Star," said owner Joey Keith Davis. "We've won about 20 stakes since we've been in the game, and this is our first one here. So it's great to do it with a homebred."

With the $30,000 winner's share of the purse, Molly's Honour has bankrolled $150,728 in career earnings. Tonight's win puts her career record at 16-5-5-2.

At odds of 1.90-1, Molly's Honour returned $5.80, $3.40 and $2.80. Expect Royalty returned $8.20 and $5.40 for place, and Lasting Bubbles held on for show, returning $3.60. Thegirlinthatsong, Triplemental, Smiles Golden Song, Sassy N Special, Savannah's Keeper, Mescaleress, and Shezararebird completed the order of finish. Margarita On Rocks was a late scratch.

Race fans, be sure to join us tomorrow for our final Sunday live race card this season. Bring your Dad to the races for Father's Day! He could enter to win a pair of leather recliners and a 42' Sanyo television! Gates open at 11:30 a.m. First race post time is 1:35 p.m. General admission is $5. Free general parking.

Additional Notes: David Cabrera holds the lead in the rider standings with 51 wins over Luis Quinonez, with 45. Trainer Karl Broberg has a tight grip on the trainer standings with 46 wins over Steve Asmussen's 32.