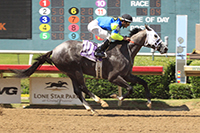 Worldventurer - Finish
-photo by Reed Palmer Photography
Worldventurer - Action
-photo by Reed Palmer Photography
Worldventurer - Winner's Circle Presentation
-photo by Reed Palmer Photography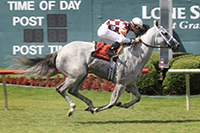 Circustown Rose - Finish
-photo by Reed Palmer Photography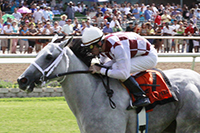 Circustown Rose - Rail
-photo by Reed Palmer Photography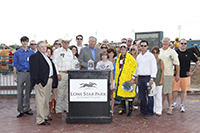 Circustown Rose - Winner's Circle Presentation
-photo by Reed Palmer Photography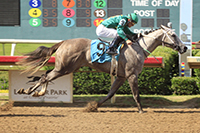 Falling Star - Finish
-photo by Reed Palmer Photography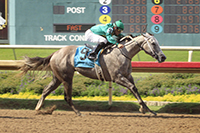 Falling Star - Action
-photo by Reed Palmer Photography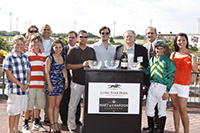 Falling Star - Winner's Circle Presentation
-photo by Reed Palmer Photography
Asmussen Prevents a Three Stakes Sweep Today Winning the TTA Sales Futurity Filly Division, Calhoun Takes Colt & Gelding Division Plus the Inaugural Lane's End Scholarship Stakes at Lone Star Park
(Grand Prairie, Texas - Saturday, June 16, 2012) - Wesley Melcher's Worldventurer, trained by Bret Calhoun, took the lead just inside the furlong marker and inched clear to win the $94,420 TTA Sales Futurity, colt & gelding division, Saturday at Lone Star Park.

"He broke very well, sharp," said jockey Jamie Theriot, who shipped in to ride two today, this being the lone victory. "He put me in a great stalking position. I reached and grabbed a good cross on him turning for home and he just re-broke. He really found his stride the last 16th."

For his victory, Worldventurer earned $56,652 in his division of the TTA Sales Futurities. His career earnings got a boost to $69,432. It was second win from three starts of his young career. Bettors were returned $6.60, $4.80 and $4.00. He posted fractions of 21.97 and 45.75 final time was :58.55.
Second place finisher, Changing Karma returned $5.40 and $3.80, with Validate Blarney returning show money of $8.80. Shockman, City Fast, Unbridled's Score, coupled favorites Boogalee and Dat Red Cat, Tears, Seeking Payday and Bronce Bellator completed the order of finish.

Calhoun's second stakes win of the day came with Circustown Rose winning the inaugural $50,000 Lane's End Stallion Scholarship Stakes for fillies and mares at seven and one half furlongs on the turf. The four-year-old filly was well rated setting the pace, and responded well upper stretch when asked, drawing clear for the victory.

"Early on in her career, she was really aggressive and wasn't much for rating and relaxing," said trainer, Bret Calhoun. " It took us a while to get here, and we were concerned if she would ever make it to the two turns. She's learned and advanced and got some seasoning, and it's gone very well," he added.

Fractional times were 24.67, 49.06, 1:12.97 and 1:24.70.
Circustown Rose returned a profit of $14.00, $8.20 and $4.80. Patty's Pride returned $9.80 and $6.00 place and show, with favorite, Im a Bear returning $2.40. Completing the order of finish were Pharme's Phire, She Has Bling, Joy's Paradise, Zippy Wager, Perfect Meadow, Youcannotbeserious, Donegal Gold, Laverne, and Dixie Dust ran last.

The $56,860 TTA Sales Futurity for fillies was where trainer Steve Asmussen put an end to Calhoun's stakes winning streak. His charge, Falling Star, ridden by Bryan McNeil, inched clear at the top of the stretch, crossing the wire a length and a quarter in front of post-time favorite, Pardonmecomingthru.

"They just told me to sit chilly on her, get her relaxed," McNeil said. "She relaxed really well and ran a good race."

Falling Star returned $13.00, $5.60 and $4.00.
Pardonmecomingthru returned $3.60 and $2.60 with Miss Goodthing returning $3.20. Fractional times were 22.10 and 45.66. The other finishers in order were: Platinum Song, Tastefullyxcessive, Final Song, Bear Bottom, Smeauxkininthelane, Bluejoy, Ballerinagonewild and Becks Expectations.