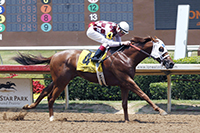 Circustown Flyer in action
-photo by Reed Palmer Photography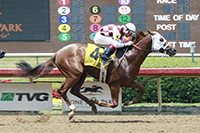 Circustown Flyer at the finish line
-photo by Reed Palmer Photography
Circustown Flyer in the winner's circle
-photo by Reed Palmer Photography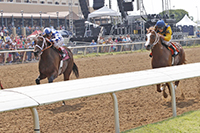 Coyote Legend in action
-photo by Reed Palmer Photography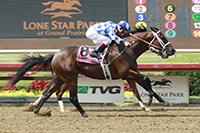 Coyote Legend at the finish line
-photo by Reed Palmer Photography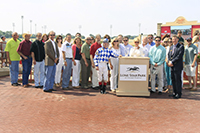 Coyote Legend in the winner's circle
-photo by Reed Palmer Photography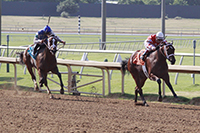 Closing Report in action
-photo by Reed Palmer Photography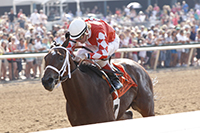 Closing Report in action
-photo by Reed Palmer Photography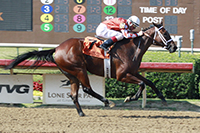 Closing Report at the finish line
-photo by Reed Palmer Photography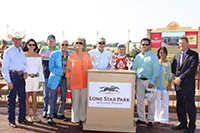 Closing Report in the winner's circle
-photo by Reed Palmer Photography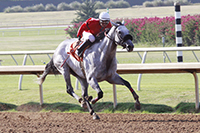 Lasting Bubbles in action
-photo by Reed Palmer Photography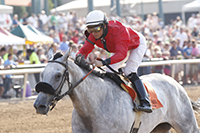 Lasting Bubbles in action
-photo by Reed Palmer Photography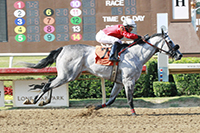 Lasting Bubbles at the finish line
-photo by Reed Palmer Photography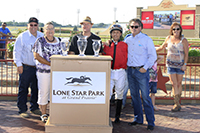 Lasting Bubbles in the winner's circle
-photo by Reed Palmer Photography
Stars of Texas Day Recap: Circustown Flyer Upsets Time Iz Flyin to Win the TTA Sales Futurity Colt & Gelding Division
Grand Prairie, Texas (Saturday, July 6,2013) - Phil Louis Adams's Circustown Flyer dueled gamely down the stretch and narrowly prevailed in Saturday's $86,480 TTA Sales Futurity, colt & gelding division.
Trained by Bret Calhoun and ridden by Cliff Berry, the Early Flyer colt pressed the pace, went wide in the turn and showed some grit in a stretch duel prevailing by a length and a half over favorite, Time Iz Flyin. Fractions for the five furlongs were :22.85 and :45.86, with a final time of :58.30.

"He's a professional horse for only running one time," said jockey Cliff Berry. "Yeah, he likes to run, and he dug right in."

Circustown Flyer earned the winners share of $51,888 for today's victory increasing his earnings to $63,888. Win, place and show wagers returned $5.80, $2.20 and $2.10. Runner up, Time Iz Flyin returned $2.10 and $2.10 with Check Ridge returning $2.60 for show. Yes It's a Fact, Overspent and Golden Tune completed the order of finish.
It's a Charm for Coyote Legend as He Wins the Assault Stakes for the Third Time
Coyote Legend, the homebred of Clarence Scharbauer, Jr. gamely held on to win the 16th running of the $50,000 Assault Stakes for Texas-Bred three-year-olds and up, going one mile on a fast main track Saturday. This was his third victory in the Assault. He also won in 2010 and 2012. Only one other horse has posted more wins, Goosey Moose who has won a record four times, 2004-05, 2007 and 2009.
"He's been special for us since day one," said trainer Bret Calhoun. "Like Ken (Carson) said, he's been really good to us, and it's just been a lot of fun to be around that horse."

Ridden by Lone Star Park's all-time leading rider, the six-year-old gelding by Gold Legend nosed his way to the lead at the quarter-pole setting fractions of 24.90 and 47.90, and then dueled gamely to win by a neck over Ojos de Hielo, who shipped in from Arlington Park for the race. The final time was 1:37.59.

"I got by him (Ojos de Hielo) and usually they'll give up, but he didn't give up," said jockey Cliff Berry. "My horse got the job done."

With the win, Coyote Legend improved his record to 18 wins from 34 starts and increased his career earnings to $717,467.

Coyote Legend paid $4.00, $2.80, $2.40, runner-up Ojos de Hielo returned $7.60, $5.60, and Cat's Classy Rider paid $3.20 for show. Safe Range, Big Scrape, He Has Bling, Avec Glass and Pagador completed the order of finish.
Closing Report Gives Red-Hot Trainer Bret Calhoun a Stakes Tripe Today Winning the TTA Filly Division
Stephen R. Brown's Closing Report was best of the rest in today's 21st running of the TTA Sales Futurity filly division. The filly by Closing Argument was three lengths the best in the five furlong contest, posting fractions of :22.12 and :45.58, with a final time of :58.27.
With her win, trainer Bret Calhoun recorded his third stakes victory on the closing day card and his fifth stakes win for the meet.

"She had a great breeze show," said Calhoun. "She's a very, very good individual. Very mature, gotta lot of class, we just love her."

Closing Report increased her earnings to $68,028 and her record at 2 for 2. She returned $3.00, $2.10 and $2.10. Scooter's Choice returned $3.20 and 2.80. Discreet Girl returned $5.20. Amarillo Evening, Island Drive, Krazy Kitty, L J's Bertie, Retained Asset, Granny Grump and Wild Dreams of U completed the race in that order.
Lasting Bubbles Gets Her Second Stakes Win of the Meet with Her Victory in the $50,000 Valor Farm Stakes
Owned by Judy Peek and trained by Kevin Peek, Lasting Bubbles, who started the meet a winner in the JEH Stallion Station Stakes on April 12, went out a winner by taking first place in the 16th running of the $50,000 Valor Farm Stakes. The six furlong feature for Texas-Bred fillies & mares saw early fractions of 21.96 and 44.58. The final time for the running was 1:09.63.
"I was expecting the early fractions to set up the way they did, but I wasn't expecting us to run away from them the way we did," said trainer Kevin Peek. "She exceeded my expectations."

Ridden by Fabio Arguello, Jr., the five-year-old mare by Pulling Punches, showed her stuff drawing off to win by an impressive seven and a quarter lengths.

Lasting Bubbles paid $4.20, $3.20 and $2.80. Molly's Honour returned $14.60 and $10.20. Wimbledon Star returned $8.80 for the show. Cowgirl N Up, Tastefullyexcessive, Color Code, Wahine Bling, Nurse Goodnight, Im a Bear, She Has Bling and Esscalator completed the order of finish.

The victory today upped her stats to 14-5-5-0 and $155,402. The win also earned her Champion Texas-Bred honors for the meet which concluded today.

Additional Notes: The end of meet champions were determined today: Champion Horse of the Meet went to Master Rick, winner of the Grade III Texas Mile, and the Grade III Lone Star Park Handicap. Champion Claiming Horse went to Black Ida's Jo Jo. Champion Texas-Bred honors went to Lasting Bubbles. There were newcomers in all of the horsemen's categories the year…Champion Trainer went to Allen Milligan…Champion Jockey Honors went to Lindey Wade…Champion Apprentice Jockey went to Alfredo Sanchez-Sigala, and Champion Owner of the meet was Danny Keene. Congratulations to everyone for a great winning season.