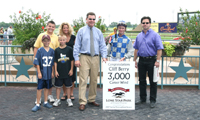 Left-to-right presentation in Winner's Circle: Lone Star Park President & General Manager Drew Shubeck (left), Cliff Berry (center) and trainer Bret Calhoun (right).
-photo courtesy Lone Star Park

Cliff Berry Collects 3,000th Thoroughbred Win Sunday at Lone Star Park
(July 8, 2007) - Veteran jockey Cliff Berry won the 3,000th Thoroughbred race of his career Sunday at Lone Star Park in Grand Prairie, Texas when Lady Be Tru rolled to a three-length victory in the fourth race.
"This is all gravy beyond this," said Berry, a 44-year-old native of Joplin, Mo. who now resides in Jones, Okla. just east of Oklahoma City. "I never thought I'd get this far."
Berry, who was credited with his first career win June 3, 1981 at Louisiana Downs, has flourished over the last eight years, winning more than 1,500 races at a 19% win-clip since 1999. Last year, his mounts earned a career-high $4.7 million. The year before, he won a personal best 240 races to rank 14th nationally.
The 44-year-old has won more races at Lone Star Park than any other jockey with 484 trips to the local winner's circle. He was Lone Star Park's leading rider during the 2005 and '06 Spring Thoroughbred Seasons, including a single season record 103 wins last year.
Berry also is the all-time leading rider at Remington Park with 11 titles and more than 1,500 victories at the Oklahoma City racetrack.
"As long as I'm healthy and can come out here, I'm going to ride," Berry said. "My dad got me started in horse racing. We always had horses when I was growing up. I really hadn't planned on being a jockey, but I began working on the racetrack before I was a senior in high school. I started galloping horses, and pretty soon I started riding and winning races, and I haven't had to quit since."
"I always looked up to Pat Day. He was always so impressive to me. A lot of people only saw him ride the big races and the good horses, but I saw him in the summers in Chicago with the cheap horses that would run off with other people. He could take those horses back to last and win with them. I watched him a lot."
Berry rode his first race at Midway Downs in Stroud, Okla. In addition to Thoroughbreds, Berry is credited with another 109 victories on other breeds. He scored his 3,000th overall win Sept. 12, 2006 at Remington Park aboard the Bret Calhoun-trained Madame Menuhune. Calhoun also is the trainer of Lady Be Tru.