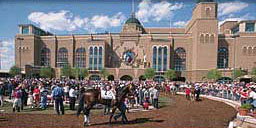 Stars of Texas Day Features Four Stakes Races Worth an Estimated Total of $300,000 Saturday at Lone Star Park
Grand Prairie, Texas (Friday, July 11, 2014) - The final day of our 18th Spring Thoroughbred season is fast approaching, and what an exciting day of racing is on tap. Saturday, July 12 is Stars of Texas Day, with four stakes races that total an estimated $300,000 featured on the 10-race card. Gates open at 5:00 p.m. First race post time is 6:35 p.m.

The featured stakes are the $50,000 Valor Farm Stakes for accredited Texas-bred fillies & mares, three-year-olds & up going six furlongs on the main track; the $50,000 Assault Stakes for accredited Texas-breds, three-year-olds & up, at one mile on the main track; and the divisional TTA Sales Futurities for two-year-olds, both at five furlongs on the main track - the $100,000 filly division and the $100,000 colt & gelding division.

Also, Hall of Fame trainer Jack Van Berg will be here signing copies of his biography "Jack, From Grit to Glory: A Lifetime of Mentoring, Dedication and Perseverance." This living legend will be joined by the books author, long-time racing personality Chris Kotulak. Copies of the book will be available for purchase for $20, so come get a copy and have it personally signed by them both. They will be at the East Grandstand entrance Saturday beginning at 5:30 p.m.
Lasting Bubbles Back to Defend Title in $50,000 Valor Farm Stakes
Judy Peek's Lasting Bubbles is seeking her second straight win in the Valor Farm Stakes after winning the 2013 running. The six-year-old mare by Pulling Punches has the age advantage here, plus she has chalked up more wins over the Lone Star Park surface than any of her opponents. Her career record at the Grand Prairie track is 8-4-2-1, earning $107,902 for those efforts.
Trained by Kevin Peek, Lasting Bubbles has one stakes win under her belt this meet with a win in the Wayne Hanks Memorial on April 12. She then tried the turf in her last start, the Lane's End Scholarship Stakes, finishing third behind competition, Molly's Honour. She returns to her favored surface in the Valor, a spot well suited to her. Regular Oaklawn Park rider Jareth Loveberry is in town for the mount. It will be his first riding assignment at Lone Star Park.

Molly's Honour, trained by this season's leading trainer, Karl Broberg, has won her last two attempts. The four-year-old filly by Honour Shaker won the Lane's End and then followed with an allowance here on June 28. Both of those efforts were on turf, but she has posted a win on the main track, which was an allowance win on May 4, 2013. She will have the services of Lone Star Park's all-time leading rider, Cliff Berry.

The field from the rail out, with jockey and morning line odds listed in parentheses is: Nurse Goodnight (David Cabrera, 4-1); More Than That (Alfredo Sigala, 8-1); Early Fantasy (Glen Murphy, 20-1); Scooter's Choice (Lindey Wade, 5-1); Lasting Bubbles (Jareth Loveberry, 8-5); Molly's Honour (Cliff Berry, 5-2); Forever Since (Bryan McNeil, 15-1) and Flashy Pearl (Gerardo Mora, 4-1).

Scheduled as race three on the card, approximate post time for the Valor Farm Stakes is 7:31 p.m. CDT.
Vivian Da Bling Heavy Favorite in $100,000 Filly Division of TTA Sales Futurity
There is a good chance trainer Bret Calhoun will be successful in the TTA Sales Futurities, not because he has entered four horses in each division, but because of the speed of which his young charges possess.

From Calhoun's barn is morning line favorite Vivian Da Bling, owned by JRita Young Thoroughbreds LLC, who gave an impressive performance in her debut on June 15. The filly by Too Much Bling won that race by 9 1/2 lengths, clocking the five furlongs in :57.4.

Wayne Sanders and Larry Hirsch's Red Phone, by Jet Phone, is another Calhoun trainee that just missed by a mere neck in her debut June 13. The final time for that race :58.3.

The other two from the Calhoun barn are Santacafe and Silver City Sal. Both are owned by Douglas Scharbauer. and both won their debuts here - Santacafe, by Café Pacific, on May 26, and Silver City Sal, by Silver City, on May 15.

Post time for the TTA Sales Futurity, filly division is 8:55 p.m. CDT. It is race six on the card, and the field from the rail out, with jockey and morning line odds, is: Proudtobewest (Glen Murphy, 20-1); Just Aly (Larry Taylor, 30-1); Carol's Flyer (Iram Diego, 10-1); Vivian Da Bling (Cliff Berry, 6-5); Santacafe (Lindey Wade, 5-2); Tea for Two (Benito Tovar Morales, 30-1); Red Phone (Chris Rosier, 7-2); Silver City Sal (Jamie Theriot, 5-2) and Sali's Special (Gerardo Mora, 12-1).
A Pair of Standouts in $100,000 Colt & Gelding Division of the TTA Sales Futurity Should Impress
Also from the Calhoun Barn is Brad Grady's Supermason, who is "superfast!" The colt by Grasshopper has had two races this meet. The first on May 24 was not so great, but after breaking in the air and spotting the field three lengths, he managed to get up for third under a strong hold. The winner that day was a gelding named Silverhill who placed in the Grade 3 Bashford Manor Stakes at Churchill Downs June 28. In his last start here on June 26, Supermason, under jockey Cliff Berry, crossed the wire first by 4 1/2 lengths and was never even asked to run. Berry will have the mount again.

Brad Raney's Unbridled Kid, trained by leading trainer of the meet Karl Broberg, impressed in his debut. On May 10, the colt by Songandaprayer won by 7 1/2 lengths under a hand ride, and on June 28, he ran a bullet five furlong work from the gate in :59 flat.

Here is the field from the rail out, with jockey and morning line odds listed in parentheses: W V Jetsetter (Jamie Theriot, 7-2); Nublado Bling (David Cabrera, 12-1); Unbridled Kid (Glen Murphy, 5-2); Guess Again (Gerardo Mora, 15-1); Assorted Humor (Tracy J. Hebert, 20-1); Summer Parade (Benito Tovar Morales, 12-1); Gold Flight (Chris Rosier, 5-1); Supermason (Cliff Berry, 8-5) and Alamo City (Lindey Wade, 5-1).

Approximate post time for the colt & gelding division of the TTA Sales Futurity, race eight, is 9:51 p.m. CDT.
The $50,000 Assault Stakes - Final Stakes of the Season Draws Well-Matched 11 Horse Field
The 17th renewal of the $50,000 Assault Stakes for Texas-breds, three-year-olds & up, at one mile has shaped up to be an interesting and well matched race. F J Uncle Vic, owned by Johnny Evans and Terry Eoff and trained by Eoff, placed in the Texas Stallion Stakes two races back on May 10. The next attempt for the three-year-old colt by Uncle Abbie was in the Grade 3 Lone Star Park Handicap on May 26, where he finished third behind winner and 2014 Lone Star Park Horse of the Meet Grand Contender. Also in the Handicap were two of his opponents in here, He Has Bling, who finished fifth in the Grade 3 race, and Texas Air, who finished sixth.

Texas Air, owned by Paul J. Rigali, Jr. has raced once since his sixth place finish in the Lone Star Park Handicap. The six-year-old gelding by Texas City just missed in a $50,000 optional allowance on June 20. He is trained by Allen Milligan and will be ridden by Lindey Wade.

The Hall's Family Trust entry of He Has Bling and Texas Bling, both trained by Danele Durham, should be considered here. Texas Bling is the highest money earner in the field with a career bankroll of $308,327. The four-year-old colt by Too Much Bling is back around two turns after winning an allowance sprint here May 16. He will have the services of David Cabrera, who is poised to win the riding title this meet.

Post time for race nine, the Assault Stakes is 10:19 p.m. CDT.

The field from the rail out, with jockey and morning line odds is as follows: His Money's Mine (Benito Tovar Morales, 20-1); F J Uncle Vic (Ernesto Valdez-Jiminez, 7-2); Texas Air (Lindey Wade, 5-2); Special U F O (Junior Chacaltana, 15-1); Jump In Line (Iram V. Diego, 10-1); Fifty Pesos (Garrett Steinberg, 3-1); Tater Red (Ivan Arellano, 20-1); Hang Cool (Jareth Loveberry, 3-1); He Has Bling (Cliff Berry, 4-1); Texas Bling (David Cabrera, 4-1) and Edplicit (Chris Rosier, 12-1).

ADDITIONAL NOTES: We will be awarding our 2014 Spring Thoroughbred Season Champions between races on Saturday, July 12. They are:
Claimer of the Meet: Perfect Tap
Horse of the Meet: Grand Contender
Trainer of the Meet: Karl Broberg
Apprentice Jockey/Jockey of the Meet: David Cabrera
Texas-bred horse of the Meet: TBD
Owner of the Meet: TBD