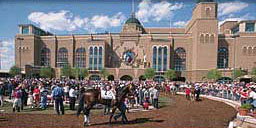 Keith James Asmussen Get His First Win as a Jockey in Sunday's Final Race at Lone Star Park
Grand Prairie, Texas (Sunday, July 26, 2020) - You couldn't have witnessed a prouder moment than that of Hall of Fame trainer Steve Asmussen and his wife, Julie, watching their first born son, Keith James Asmussen, ride his first winner in the nightcap at Lone Star Park. Today was Stars of Texas Day, featuring two $75,000 stakes races celebrating Texas-bred horses, but the most exciting race of the day was the final of the day when Keith won by just a head at the wire aboard Inis Gulaire. The entire place erupted in screams and cheers, more than witnessed at Lone Star Park in recent memory.
Keith rode his first race on June 15 at Lone Star and had ridden a total of 16 races, finishing second four times and third twice. It wasn't until race number 17 when he finally caught that elusive victory.
When asked how he felt, a beaming Keith was almost speechless, but managed to get out an excited, "It's a dream come true." He then added, "You know, Lone Star has been open for 24 years and I'm 22. My earliest memories are of coming here, so to get a win here is just surreal."
Inis Gulaire, a three-year-old son of Bernardini, is trained by his dad, Steve, who said, "You know the amazing horses we've had and how blessed we've been. This is the greatest win we've ever had."
After the celebrations finally wrapped up in the winner's circle, fellow jockeys scooped Keith up in their arms and marched him right to the paddock for a dip in the fountain, a tradition here for a rider's first win.