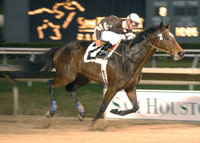 -photo by Jack Coady/Coady Photography
Oklahoma-bred Racing Sundown Draws Off to Capture the $40,000 San Felipe Stakes at SHRP
Houston, Texas (January 8, 2005) - Racing Sundown, bred, owned and trained by Larry Ronald Brown of Buffalo Valley, Oklahoma, outran her odds and captured tonight's feature, the $40,000 San Felipe Stakes. The Oklahoma-bred filly was ridden to victory by Quincy Hamilton, who is riding as a journeyman following his sensational year as an apprentice jockey. The son of Quarter Horse rider, John Hamilton, Quincy rode at Sam Houston Race Park last fall, shipped his tack to Pimlico in Maryland and finished his year at Remington Park, where he won his first riding title.
Hamilton gave the Oklahoma-bred filly a confident ride and averted trouble when early leader and post time favorite, Cat's Cat was pulled up by rider Ted Gondron as the field headed into the far turn. Hamilton, who was on the rail, angled Racing Sundown to the outside and surged to a 2 ¾ length victory, covering six-furlongs on a fast track in a final time of 1:11.60.
Sent off at 15-1, Racing Sundown paid $33.40 to win.
"She's a nice filly, winning a couple of stakes at Remington Park," said Hamilton. "Ted pulled up his horse in front of me, but luckily I had just enough room and I got through on the rail. I angled out and she hit another gear."
"I guess she just liked this racetrack," added Brown. "I've known Quincy quite a while and he's a real good jockey. He did a great job tonight."
Questionable Past, owned by Long Odds Racing Stable, Inc., ran second under Cathleen Garner. The 4-year-old filly, previously trained by Jim Hudson, is now in Michael Stidham's barn. Garner rode her to victory in the 2003 Miss Houston Stakes and was thrilled to be reunited with the classy filly.
"She did good," commented Garner. "I think it took her a minute to realize, 'Hey, I can do this.' Then it kicked in. She did well. She did real good. I'm very happy."
The race was marred by the injury to Cat's Cat. The 5-year-old mare, trained by Michael Stidham, was making her 24th career start. Rider Ted Gondron felt her take a bad step at the 5/16ths pole and pulled her up. Sadly, she suffered a broken leg and had to be euthanized.
"She broke her left front just above the ankle," said Gondron. "The (state) veterinarian examined her and thought the most humane thing to do was put her down. It is a shame, too. She felt the best tonight - she warmed up great, made the lead easy and was moving easy. I felt her take a bad step about the top of the turn and gathered her then about two strides later I felt her leg start giving away. She wanted to keep running but allowed me to direct her out of harm's way. It's a shame"
Hay Madison, part of a two-horse entry owned by Ro Parra, ran third with Terry Stanton aboard. Joyce Ann, So Sorry, Angelic Jewel, Lite and Misty and Lucky Tunnel completed the order of finish.
Brown has nominated Racing Sundown for the $50,000 Sam Houston Distaff on January 22.