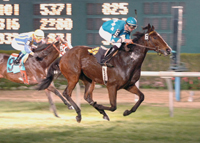 Fairwell Madrid
-photo by Jenifer Juelsgaard/Coady Photography

Fairwell Madrid Springs the Upset in the $29,250 Allenís Landing Stakes at Sam Houston Race Park
(January 6, 2007) - A competitive field of fillies and mares made the first stakes of 2007 a most interesting event this evening at Sam Houston Race Park. It was longshot Fairwell Madrid who came off the pace to capture the $29,250 Allen's Landing Stakes. The 5-year-old mare owned and trained by Donna McCullough was ridden to victory by Charles Fletcher; the first stakes win of his professional riding career. Fairwell Madrid, set off at 14-1, paid $30.20 and was followed to the wire by the longest shot on the board, Night Speeker, who returned $32 to place. The final time of the mile and one-sixteenth stakes, contested over the yielding Connally Turf Course, was 1:47.74.
"I want to thank Donna for giving me the opportunity to ride," said Fletcher in the winner's circle. "It's been a long, hard road since I've been here. This is the greatest victory so far for me."
Fletcher was patient aboard the bay mare, content to let the field settle in front of him and complete the first quarter in :25.30 and the half-mile in :50.76. He began advancing at the top of the stretch and drew clear of Night Speeker in the final strides.
"She let me rate her; she relaxed and let me see what the field was doing," added Fletcher. "She ran big; all I did was thread the needle and hope I didn't have to check or anything."
"I have won stakes in the past, in Canada, but I am sort of semi-retired and only have one horse now," said McCullough. "I really didn't expect to see all those nice fillies and I thought the race might have come off the turf. She likes the mud too. She's still a work in progress; she was discarded by four trainers before I got her. She's certainly had some issues; mostly mental, but she loves Texas and I love Texas too!"
The toteboard action was focused on the two fillies that dead-heated in the $50,000 San Jacinto Stakes on Texas Champions Day, Tunnel Time and Wild Encounter. The Michelle Lovell-trainee, Wild Encounter was sent off as the post time favorite. She mounted a rally under rider Roimes Chirinos, but finished fourth.
"We've never had her on a course that was this yielding a turf, and obviously it wasn't to her liking," commented Lovell. "She just didn't far as hard as usual down the stretch. It was tiring, and she just didn't like the going, I guess. Five (wins) in a rough is tough. We were very nervous about it. Where we go from here depends on how she comes out of this race. If she's happy and healthy we might find another spot for her on the turf. She's definitely ready for a little rest if we can't find a race for her. But there are other races we've been looking at, and she's healthy, so if she comes out of this we're probably going to keep her in training."
With two of the longest prices on the board finishing first and second, the exotic payouts were very rewarding. The 6-9 exacta returned $757.80 and the trifecta, with I.B.'s Halo, paid $5,933. The superfecta with Wild Encounter was worth $33,018.20. The remainder of the field included Barbette, Betty Garr, High Pioneer, and Tunnel Time. Crescent Lake was an early scratch.
The Canandian-bred Fairwell Madrid earned $17,550 for tonight's victory and improved her record on the Sam Houston Race Park turf course to two wins from three starts. This was the 25th career start for the 5-year-old mare, an allowance winner here on December 7.