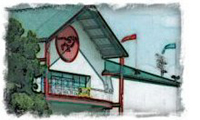 Popular Food Trucks Festival and $50,000 Tomball Stakes Highlight This Weekend at Sam Houston Race Park
Houston, Texas (Wednesday, January 29,2014) - In addition to the excitement of live Thoroughbred racing, Houstonians seeking out the latest culinary trends will be in for a special treat this weekend. Sam Houston Race Park will host two delectable promotions beginning on Friday evening with a special Chinese New Year Celebration and the return of the popular Food Trucks Festival on Saturday, February 1.

Racing fans on Friday evening will enjoy the Chinese New Year Celebration featuring a Dragon Dance and Asian inspired food selections as well as the weekly 50 Cent Beer Fridays featuring 50 Cent Draft Beer and $1.50 Wine Specials every Friday from 6 p.m. to 9 p.m.

Saturday evening marks the return of the Food Trucks Festival, featuring a variety of Houston's best food trucks outside of the Paddock. Vendors will include Good Dog, Kurbside Eatz, Happy Endings, Koagie Hots, Golden Grill, Bernie's Burger Bus, Porch Swing Desserts, Phamily Bites and Third Coast.

The 2014 Thoroughbred meet runs through Tuesday, March 11, with post times set for Friday and Saturday (7 p.m.) as well as matinee cards on Monday and Tuesday (1 p.m.). For a complete list of race dates and promotions, visit www.shrp.com.
Success Notes on Houston Ladies Classic Night
Sam Houston Race Park officials were pleased with the second running of the $400,000 Houston Ladies Classic on Saturday, January 25. The cool, clear evening was ideal for the second running of the prestigious event as well as the Grade 3, $200,000 Connally Turf Cup and two additional stakes.

More than $8,461 people, an 8% increase over 2013 attendance, turned out for the second year event on Saturday evening. Sam Houston Race Park donated $1 for each paid admission to the event beneficiary, the Houston chapter of the Susan G. Komen®. Each of the fillies in the marquee stakes had a pink saddle cloth in support of the fight against breast cancer.

It was a super showing for Rose to Gold, who won the $400,000 Houston Ladies Classic for her Florida-based trainer, Sal Santoro. The talented filly will make her next start at Oaklawn Park where the Grade 1, $500,000 Apple Blossom is her target. Admiral Kitten, who won the Grade 3, $200,000 Connally Turf Cup, delivered the first Sam Houston stakes win for Eclipse Award winning owners, Kenneth and Sarah Ramsey.

For the second year in a row, a new track record was set in the $75,000 Champion Energy Services Stakes. Trainer Tom Amoss and jockey Rosie Napravnik teamed with Sum Of The Parts, who prevailed in the always exciting turf sprint.
"We were pleased to, once again, host the richest Thoroughbred race in Texas," said Sam Houston Race Park president, Andrea Young. "We have big plans for this day going forward."
Smiles Golden Song In Pursuit of her Third Consecutive Stakes in Saturday's $50,000 Tomball Stakes
Saturday's feature at Sam Houston Race Park is the $50,000 Tomball Stakes, for accredited Texas-bred fillies and mares at a mile and one-sixteenth over the Connally Turf Course. The field of eight includes six turf specialists that competed in the $50,000 San Jacinto Stakes on opening night.

Smiles Golden Song, owned by Sylvia Baird, won the San Jacinto Stakes as well as the Fiesta Mile on the Retama Park turf course. Trainer Larry Stroope saddled the five-year-old daughter of My Golden Song, who has now won six of her 10 turf career races. She drew post position six for Saturday's feature and reunites with apprentice David Cabrera. His victory aboard Smiles Golden Song on January 17 was both his first win and stakes score at Sam Houston.

San Jacinto Stakes runner-up, Vilao, owned by Rugged Cross Racing, ran a very good race after an 11-month layoff. It was the first stakes for her trainer, Rebecca Baker, who reports that despite the extended time off, Vilao is training well for the defense of her title on Saturday evening.

"She battled colic last February, so we took her back to Ohio and gave her the summer off," said trainer, Rebecca Baker.

Regular rider, Ramon Luna, will pilot Vilao from the far inside post. Other contenders include Green Briar Kitty, who ran third in the San Jacinto for trainer Turner Coats and Shezararebird, who was runner-up to Smiles Golden Song in the Fiesta Mile.

The Tomball Stakes will run as the eighth race of the Saturday evening card.
Apprentice David Cabrera Off to an Impressive Start
It was no secret that the 2014 jockey colony at Sam Houston Race Park was expected to be one of the most competitive in the track's history. The only surprise is the tenacious start by apprentice David Cabrera, who is currently tied for second place in the standings.

Cabrera was born in Guanajuato, Mexico, but moved to Oklahoma when he was 14 and learned about horses from his aunt, trainer Mari Rodriguez. He began as a groom, and then had the opportunity to gallop horses for Clint Stuart, Brent Charlton and Allen Milligan.

Cabrera, 21, is attracting his fair share of attention with some savvy race riding, both on the main track and turf course. He won the San Jacinto Stakes aboard Smiles Golden Song, one of his eight victories in the first two weeks of the meet. What might have caught more horseplayers' attention was his riveting victory from off the pace on longshot Silver Hummer on Monday, January 21. Cabrera guided her to the outside of the pacesetters and she surged to the wire, rewarding her followers with a $98.20 win payout.

"She was bumped out of the gate, so I just tried to get her to relax," explained Cabrera. "I knew she likes to come off the pace, so I just smooched to her at the 3/8ths pole and she had plenty left."
He is grateful for veteran rider Glen Murphy, who has shared his expertise as well as his agent, Travis Church.

Cabrera is enjoying his first meet in Houston and remains humble about his success and long-term goals.

"I love to ride," explains Cabrera. "I get up every morning happy to work horses and to have mounts in so many races. I'm learning so much every day."
Houston's Trey Stiles Finished 16th in the National Handicapping Challenge
Trey Stiles, of Houston was one of the elite handicappers in Las Vegas last weekend competing in the 15th annual Daily Racing Form/NTRA National Handicapping Championship (NHC).
The 45-year-old trial lawyer has qualified for the NHC finals for the past 12 years, and was in eighth place following the first two days of the new three-day format.
"The top 50 went into a playoff on Sunday morning to determine the ten finalists," said Stiles. "I fell short, but still thought it was a pretty good showing."
Stiles qualified twice so he was able to compete with two entries. His strategy was to go for "bombs" on one of the entries and win as many of the mandatory races on his second ticket.
Had the format remained as a two-day contest, Stiles may have left Las Vegas much richer, but he was pleased with finishing 16th overall.
"I doubt that they will go back to the original format," said Stiles. "I did well, but will make a few more adjustments for next year. They ran a good event and I met a lot of great players."