Acting Zippy
-photo by Kris Davis/Coady Photography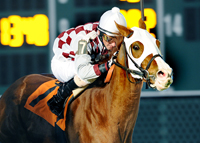 Acting Zippy
-photo by Jack Coady/Coady Photography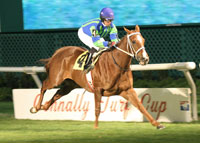 Love To Tell
-photo by Kris Davis/Coady Photography
Longshot Acting Zippy Surprises in the GIII $197,000 John B. Connally Breeders' Cup Turf Stakes at SHRP
Houston, Texas (January 30, 2010) - The chilly weather seemed to encourage surprise efforts from some of the top racers throughout the night during Sam Houston Race Park's prestigious racing event, The John B. Connally Breeders' Cup Turf Festival. A crowd of 5,739 people came out to The Park to watch all the live racing action over the course of a solid 10-race card which featured two incredible stakes races, the Grade III $197,000 John B. Connally Turf Cup and the $50,000 Jersey Lilly Stakes.
The night's main event, the Grade III $197,000 John B. Connally Turf Cup, a one mile-and-an-eighth contest featuring three-year-olds and up, witnessed an upset as longshot Acting Zippy ($12.40) beat out other contenders, including favored Orientate Express, down the final stretch in a winning time of 1:52.31.
Acting Zippy set the early pace from the gate and was challenged along the upper stretch but dug deep for a strong drive, landing him in front of the pack to claim the win by a neck. Acting Zippy's co-owner and trainer Don Bennett was visibly shocked and excited to be standing in the winner's circle as he, along with jockey Robby Albarado, were presented the trophy by Hal Wiggins, former trainer of Horse of the Year Rachel Alexandra.
Albarado, a three-time Connally Cup winning jockey, had the seven post out of the gate and quickly charged to the front of the field. He commented, "If [he] broke well from the starting position, I knew he would be able to carry the pace. This is a versatile horse, and I knew he would be able to win this."
The crowd seemed to agree and eagerly cheered him to victory in what was the most anticipated and exciting race of the night.
When asked what the plans were for the five-year old chestnut gelding, Bennett said, "We might try moving him to the dirt next, but we're not completely sure at this time."
Acting Zippy is co-owned by Bennett and Carl Bowling.
Final placement for the Connally Cup was: Acting Zippy, Orientate Express, Baltimore Bob, Gran Estreno (ARG), Gretsky, Ablaze With Spirit, Going Ballistic, Pool Play, My Happiness (ARG), Red Rock Creek, Fifteen Love and Real Appeal.
The 6th race on the card, the $50,000 Jersey Lilly Stakes, saw Love To Tell ($12.00) keeping with the pace from the beginning, rallying on the final turn, and drawing off mid-stretch to prove best with a time of 1:44.91. The five-year-old chestnut mare is trained by local conditioner J.R. Caldwell, owned by Lucas Downs, Ltd. and ridden by jockey Shane J. Sellers.
Sellers, taking the call this morning for the mount, commented, "I did exactly as my instructions said. If I was in the lead, I'd be fine because she likes to hear her feet rattle. You could tell she wanted this race. I haven't ridden in five years, but this turf course is one of the best. Everyone always praises this turf course; it's great."
Love To Tell paid her betting fans $12.00 for the win in the mile-and-a-sixteenth turf race.
"She stayed behind the pace and then came with the strong run. She really likes the turf course and it pays off," said Caldwell.
Final placement featured Pleasantly Blessed in second, Final Refrain in third, followed by Shine Softly, Ruling Class, Cherry Pink, Slick Kitty, Icy Kitten, Issheademon, Queen La Bella, Tis Alkie, Little Axe Leoleta and Plan Nine.
The celebration also highlighted fantastic dining packages in the Winner's Circle restaurant, between-race promotions from Spring Chrysler-Jeep-Dodge, Verizon Wireless, Bud Light and L'Auberge Du Lac Casino Resort and a free handicapping seminar with DRF/NTRA handicapping finalist Nick Tammaro, and Greg Thompson and Martha Claussen of SureBet Racing News. The first 2,000 fans through live racing gates received a free commemorative Connally Cup T-shirt compliments of Verizon Wireless.
Live racing continues at The Park every Thursday through Sunday in February. Highlights for February include: 50 Cent First Friday (Feb. 5), Big Game Dollar Day (Feb. 7), the 2nd Annual Wiener Dog Races (Feb.13), Valentine's Day (Feb.14) and Texas Stallions Stakes (Feb.20). The 2009/2010 Thoroughbred meet runs through April 3.