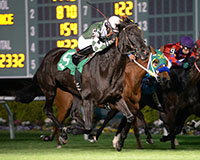 I Am Jane Dough Proves to be a Tough Cookie in the $50,000 Tomball Distaff at Sam Houston Race Park
Houston, Texas (Saturday, January 31, 2015) - Rose Mary Chandler's homebred, I Am Jane Dough, came from off the pace to win tonight's feature at Sam Houston Race Park, the $50,000 Tomball Distaff for accredited Texas-bred fillies and mares. The four-year-old filly is trained by Danny Pish and was ridden to victory by Sam Houston Race Park's leading jockey, Deshawn Parker.

The field of nine, included five stakes winners, led by Expect Royalty, winner of the $50,000 San Jacinto Stakes here on opening night. It proved to be a coming out party for I Am Jane Dough, who earned her first stakes win of her career. She ran third in the Fiesta Mile at Retama Park and second in the San Jacinto, but tonight, put it all together under a well-timed ride by Parker. This is just the second year that the 44-year-old has ridden in Houston. He is currently the leading rider here, and picked up his first stakes Sam Houston stakes win this evening

Parker expressed his gratitude to Pish and admiration for the four-year-old daughter of My Golden Song, who sat off the early pace, rallying five wide and crossing the wire a half-length ahead of Mollys Honour.

"Danny just told me to let her do what she wanted for the first part of the race," said Parker. "She has tactical speed and could go to the front or make that late sweeping run. I just let her settle and when I called on her, she gave me all she had. I definitely appreciate Danny giving me the chance to ride the filly."
Pish saddled three winners on the Saturday night card, and liked the progression of his filly.

"She's coming together, and her win tonight reflected her seasoning," commented Pish. "Sometimes those big, gangly runners take a little longer to get it together."

I Am Jane Dough covered the distance of a mile and one-sixteenth over the Connally Turf Course in 1:44.67 and returned $6.00 as the second choice in the nine-horse field. Mollys Honour, who went out to the lead under Martin Escobar, held on for second. There was a dead-heat for third between Expect Royalty and defending champion, Wampas Kitty.

Pish was uncertain regarding the next start for his winning filly.

"Quite frankly, I haven't thought that far ahead," said Pish. "I'm thrilled with tonight's performance, and we'll evaluate tomorrow and decide where to go from here."

The 2015 Sam Houston Race Park Thoroughbred racing season runs through March 10. Stakes races will continue every weekend during the meet with the Bucharest Stakes on February 7. The Clarence Scharbauer Texas Stallions Stakes Series on February 14 will feature the $75,000 Two Altazano Stakes, $75,000 Jim's Orbit Stakes and the $50,000 Jersey Village Turf Stakes. The Sam Houston Sprint Cup follows on February 21. The Maxxam Gold Cup Racing Festival will take place February 28 and feature the $100,000 Maxxam Gold Cup, the $50,000 Jersey Lilly Turf Stakes and the $50,000 Texas Heritage Stakes.