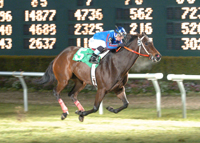 Airizon
-photo by Jenifer Juelsgaard/Coady Photography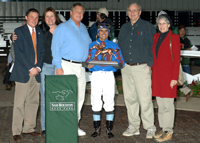 Trophy presentation
-photo by Sandra Beck/Coady Photography

John Locke Trainee Airizon Wins the $25,000 Texans Stakes at Sam Houston Race Park
(February 3, 2007) - A full field of 11 fillies and mares took to the Connally Turf Course at Sam Houston Race Park for tonight's feature, the $25,000 Texans Stakes. Airizon, a 5-year-old mare owned by Pamela Halter from DeSoto, Texas and trained by John Locke was the winner in front-running fashion. Rider Richard Eramia piloted the daughter of Boston Harbor to the wire over the yielding Connally Turf Course, covering the distance of five furlongs in :59.05.
Locke, who is second in the trainer standings at Sam Houston Race Park, won his first stakes race of the 2006/2007 Thoroughbred meeting this evening. Airizon was competitive last summer at Remington Park, hitting the board in each of her three turf sprints at the Oklahoma racetrack.
"We were concerned about her running on a yielding course and worried that her speed might not hold," commented Locke. "She's very fast, but she was able to handle the course and we're very happy."
Eramia has been on a hot streak this weekend, winning the final two races of the Friday, February 2 card and three races tonight. He was her regular rider last summer at Remington Park and romped aboard Airizon for a four-length victory on the main track on December 30 here at Sam Houston Race Park.
"We had a good trip," said Eramia. "My filly liked the turf course tonight; she runs well on turf or dirt."
Special Hunter, a 5-year-old Texas-bred, ran second for trainer Michelle Lovell and rider Roimes Chirinos.
"It looked like she got into a little bit of traffic trouble on the turn, but it didn't cost us too much," said Lovell. "It looked like it was going to make us go a little too wide, but I didn't get a chance to talk to my jockey yet, so I'm not sure. I'm satisfied with our finish, though. That horse that John (Locke) had in there, I thought was the horse to beat. There were another couple of pretty tough mares. I'm just proud that my filly tried to run her down. Usually she's on the lead, so it was nice to see her rate and then try to run something down. And she nearly got there."
Airizon was sent off as the post time favorite and paid $5.40 to win. The 5-2 exacta returned $29.60 and the trifecta with Inspired Dancer paid $202. Sea Lilly Sis, Destiny's Design, Junk Gypsie, Miss Know It All, Brassie Road, Ciens Storm, Halo's Sunset and Ms Majestic Star completed the order of finish. Tawnka was an early scratch.
Richard Smith, defensive coordinator for the Houston Texans, was on hand to make the trophy presentation to the winning connections.
News and Notes
There will be no live racing at Sam Houston Race Park on Sunday, February 4 due to the Super Bowl. The northwest Houston racetrack will be open for simulcasting and the Jockey Club will offer a Super Bowl party, beginning at 4:00 p.m. Live racing returns on Friday, February 9 at 7:00 p.m.