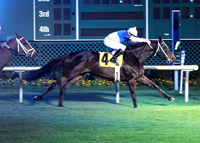 Pleasantly Blessed
-photo by Jack Coady/Coady Photography
Pleasantly Blessed Benefits from a Rail Saving Ride to Win the $50,000 Jersey Lilly Stakes at Sam Houston Race Park

Houston, Texas (Saturday, February 4, 2012) - Pleasantly Blessed showed her class and turf acumen tonight at Sam Houston Race Park, defeating a solid field of ten fillies and mares in the $50,000 Jersey Lilly Stakes. The 8-year-old daughter of Pleasant Tap, owned and trained by Steve Asmussen, had made three previous starts at Sam Houston Race Park. Each time, she finished second, including the 2008 and 2010 editions of the Jersey Lilly Stakes. Tonight she stepped out of her bridesmaid role and defied her age in a classy performance under rider Roman Chapa.

Breaking from post position four, Chapa settled his mare in the early stages of the race, capably saving ground as San Jacinto Stakes winner Badness set the early fractions. He called on her as they rounded the final turn of the mile and one-sixteenth turf stakes, and she responded brilliantly, drawing off to a one-length lead. Although up to two inches of rain fell in Houston on Friday evening and Saturday morning, the turf course remained firm and she completed the race in a final time of 1:44.01.

"I had a pretty good trip," said Chapa, who won his 1,500th career race here last Monday. "As Steve has often told me, the shortest way around is on the rail. She did everything she was asked and I was just the pilot. Steve knows what he's got when he sends them over here; we just had a wonderful trip."

Asmussen did not make the trip to Houston; he was celebrating his 15th wedding anniversary with his wife, Julie, but was reached for comment following the race,

"I am very proud of her," said Asmussen. "She is a tough mare who shows up and has done extremely well in her career."

Last weekend, trainer Mike Maker found the grass greener at Sam Houston Race Park when Papaw Bodie shipped in and captured the Grade 3, $200,000 Connally Turf Cup. Tonight it was the four-year-old Artemus Kitten, a multiple stakes-placed runner who prepped for the Jersey Lilly with a game allowance win at Fair Grounds. Bred and owned by Kenneth and Sarah Ramsey, Artemus Kitten is a daughter of the Eclipse Award Turf winner, Kitten's Joy. Jermaine Bridgmohan flew in from Fair Grounds to ride the 4-year-old filly.

"She ran great," said Bridgmohan. "I just couldn't get a clear path for her."

Always In My Heart, under 2011 Sam Houston leading rider, Lindey Wade closed for third, followed by Miss Hockaday, Lookinforchange, Tickleyourfancy, Badness, Patty's Pride, Wanna Cuddle and Category Seven. Vickies In Town was an early scratch.

Pleasantly Blessed was supported well from the betting public and left the gates as the favorite, returning $5.60 for the win. The dark bay mare earned $30,000, which boosted her career bankroll to $409,586. Asmussen said that Pleasantly Blessed would remain at Sam Houston and make her next start in the $50,000 Sam Houston Distaff on February 25.

There will be no live racing on Sunday, February 5, but Sam Houston Race Park will be open for simulcasting. The 2012 Thoroughbred meet continues through Monday, March 12, with post times set for Friday and Saturday (7 p.m.), Sunday (5 p.m.) and Monday (1:20 p.m.). The meet will feature a variety of special events including Wiener Dog Races on February 11, Ladies Night on February 25 and Camel & Ostrich Races on March 10. The park will also host a 27-day Quarter Horse Meet from March 22 – May 19.