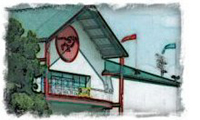 Dollar Day and $50,000 Bucharest Turf Sprint Set for Saturday Night at Sam Houston Race Park
Houston, Texas (Wednesday, February 4, 2015) - Sam Houston Race Park will host Dollar Day this Saturday, February 7 where admission, live racing programs, hot dogs, sodas, and draft beer (4:30-10:00 p.m.) will be available for just $1. Bring the entire family out and enjoy the free interactive games in the pavilion, the first ever Swifty Swine Pig Races, live racing and the dollar menu.
For more information on Dollar Day, 50 Cent Beer Fridays, or other upcoming promotions, visit www.shrp.com.
Solar Charge Returns in the $50,000 Bucharest Turf Sprint on Saturday
Saturday night's feature at Sam Houston Race Park is the $50,000 Bucharest Turf Sprint, for accredited Texas-breds at five-furlongs over the Connally Turf Course. Multiple stakes winner, Solar Charge, is the 2-1 morning line favorite. The eight-year-old son of Authenticate is trained by Ellen Williams and has won 15 career races, including the 2012 Spirit of Texas and 2013 Bucharest Stakes at Sam Houston Race Park. Bred by Carolyn Barnett and co-owned by Barnett and Lana and David Alford, Solar Charge rallied for second in last year's edition of the Bucharest, which was won by 2014 Sam Houston Race Park Horse of the Meet, Triumph and Song. Solar Charge successfully turned the tables on Triumph and Song with a victory in the $50,000 Premiere Stakes at Lone Star Park at Grand Prairie on April 10.

Solar Charge drew post position five in the six-horse stakes and will be ridden by Lindey Wade. The field also includes Caroline Dodwell's Aces N Jacks, winner of the 2014 Groovy Stakes. Dodwell, who also trains the four-year-old son of Jet Phone, has given the mount to Lindey Wade. Trainer Danny Pish and rider Deshawn Parker, won last weekend's Tomball Stakes with I Am Jane Dough. The duo will team up in the Bucharest with Margo Narro's Proper'N Storme, who broke his maiden here on January 16 and steps up to stakes company in just his second start.

Every Saturday, Sam Houston Race Park offers the $20,000-Guaranteed Pick 4, on races 7-10; the Bucharest Turf Sprint will run as the ninth race of the card.

The feature is named for the late Thoroughbred sprinter Bucharest, owned by Israel Flores and trained by Amos Laborde, who set three track records at Sam Houston Race Park, including the lightening-fast six furlong time of 1:08.88 on May 11, 1994, which remains the current track record.
Rose Mary Chandler Breeds Another Turf Stakes Winner
Last Saturday, Rose Mary Chandler's homebred I Am Jane Dough was a game winner in the $50,000 Tomball Distaff at Sam Houston Race Park. It was the first stakes win for the four-year-old filly, trained by Danny Pish and ridden to victory by Sam Houston Race Park's leading jockey, Deshawn Parker.

Chandler, who resides in Luling, Texas, was not able to make it to Houston, but shared her fascinating history about the naming of her stakes winning filly.
"I Am Jane Dough didn't come in this world running forward," said Chandler. "She was a breach baby. We got a call from Elgin Veterinarian Clinic around midnight, April second, 2011, saying Strawberry Smile was having problems and it would be costly. Of course we said to do whatever possible to save the mare, and if possible, the baby, too. After many exhausting hours, Jane Wallace from Elgin Vet called to say all was okay and we had a baby elephant horse! Jane had been with the doctor all night working and is a dear friend and horse woman. Because of the cost of the bill, 'Dough' came to my mind. I had to include Jane in her name, and it all came together."
Chandler has bred some exceptional Texas champions. Skip a Smile was honored as 2011 Texas Thoroughbred Association Horse of the Year and won eight stakes, including the $50,000 Texas Hall of Fame at Retama Park and the $50,000 Richard King at Sam Houston Race Park.
Chandler and her husband, Wendell, give high praise to Strawberry Smile, the dam of both I Am Jane Dough and Skip a Smile.
"Strawberry Smile is the sweetest mare in the world," acknowledges Chandler. "She had breeding problems, so Wendell and I decided to give her permanent retirement on our ranch in the Golden Manor section. She really thinks she's "people" and enjoys a sandwich and beer every once in a while just for fun and show."
In addition to her Thoroughbred stakes winners, Chandler also bred and owned Acorn, a multiple graded stakes Quarter Horse champion. He is part of a prestigious group of racehorses reunited in retirement.

"Skip A Smile is truly enjoying free running in the big pastures at our ranch," she explained. "He is joined by his constant companion, Cowboy Sam, a small horse who was his loyal friend and stable mate, all through his racing career. Skip A Smile has two other retired buddies with him and the four enjoy endless hours of frolicking. One of his companions is Acorn, the 2010 Quarter Horse Three-Year Old Champion Gelding and the 2011 Texas Champion Aged Gelding. The foursome is rounded out with Lydia's Last Step, who was a Texas Thoroughbred stakes winner. All three were foaled in 2007, raised together, and played as weanlings and yearlings. They thoroughly enjoy being back together again."

As for I Am Jane Dough, Chandler expects her to return to the Connally Turf Course on February 28 to compete in the $50,000 Jersey Lilly Stakes.
Kentucky Derby Future Wager Offered This Weekend
For racing fans already focusing on the 141st Kentucky Derby, Sam Houston Race Park will offer the second pool of the 2015 Kentucky Derby Future Wager this weekend. There will be 23 individual three-year-olds and a 24th betting option for the field. The minimum wager is $2.00 and up-to-date information on the contenders is available at kentuckyderby.com.

There will be two more opportunities to place a Derby Future wager: February 27-March 1 and March 27-29. Sam Houston Race Park will also offer the only Kentucky Oaks Future Wager pool February 27-March 1.
Sam Houston Race Park is Host Site for Cirque du Soleil's Amaluna
Sam Houston Race Park is pleased to be the host site for the unique and exquisite entertainment experience of Cirque du Soleil's Amaluna.

Amaluna, which will open on February 12, invites the audience to a mysterious island governed by Goddesses and guided by the cycles of the moon. Their queen, Prospera, directs her daughter's coming-of-age ceremony in a rite that honors femininity, renewal, rebirth and balance which marks the passing of these insights and values from one generation to the next.
In the wake of a storm caused by Prospera, a group of young men lands on the island, triggering an epic, emotional story of love between Prospera's daughter and a brave young suitor. But theirs is a love that will be put to the test. The couple must face numerous demanding trials and overcome daunting setbacks before they can achieve mutual trust, faith and harmony.

Amaluna will run through March 22; for show times and to order tickets, click here.