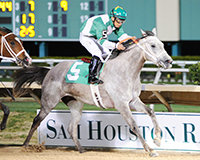 Jewell AA at the finish line
-photo by Coady Photography
Jewell AA and Easter Man Capture Graded Arabian Stakes at Sam Houston Race Park
Houston, Texas (Saturday, February 6, 2016) - Sam Houston Race Park welcomed a family-friendly crowd for Dollar Day, and they were treated to two entertaining Arabian stakes features. Trainer Jerenesto Torrez had an excellent night, saddling the winners of both the $30,000 Texas Yellow Rose for fillies and the $30,000 Texas Six Shooter for four-year-old Arabian colts and geldings.
Jewell AA Scores in Front Running Style in the $30,000 Yellow Rose (G2)
In the $30,000 Yellow Rose for fillies and mares, Jewell AA, owned by Betty and Joseph Gillis of Columbus, Mississippi, returned to the winner's circle under jockey Ernesto Valdez-Jiminez.

The four-year-old daughter of noted Arabian sire Burning Sand won two stakes last year, completing 2015 with a victory in the $20,000 Texas Lone Star Futurity at Lone Star Park. Conditioned by Jerenesto Torrez, who won the 2015 edition of the Yellow Rose, she went to the lead from the opening bell, holding off a late charge by RB Madymoiselle and Ivan Arellano. Her final time for seven furlongs over a fast track was 1:34.60.

"She's a real fine horse," said Gillis. "Jerenesto has done a very good job with her. Ernesto did a nice job as well; he loves this filly."

Valdez-Jiminez, 25, is a nominee for the 2015 Darley Awards champion jockey. Born in Guerrero, Mexico, he has just been riding professionally for four years.

Torrez is having a fine meet with both his Arabians and Thoroughbreds stabled at Sam Houston Race Park. He was impressed with the return off the layoff for Jewell AA.

"She's a very fine filly," said Torrez.

Jockey Carol Cedeno rode Wall Street Watch to a third-place finish, and Pams Masquerade completed the superfecta.

This was the fourth win from six starts for Jewell AA ($2.80), who will return to Sam Houston Race Park on March 5 for the Sheikha Mubarak Ladies World Championship.
Easter Man Dominates in the $30,000 Texas Six Shooter (G2)
Torrez completed the sweep of the Arabian stakes with an impressive performance by Easter Man in the Grade 2, $30,000 Texas Six Shooter.

Bred and owned by Betty and Joseph Gillis, Easter Man is a full brother to last year's Texas Six Shooter champion, Burning Fleet. The gray colt has been impressive since making his first start last August at Delaware Park. Tonight's victory marked his fourth win in seven starts, and his second consecutive stakes win.

Jockey Ivan Arellano was aboard, deftly guiding his colt from the far outside post, steadily mounting a bid, and drawing off to a 3 1/2-length margin. He crossed the wire of the seven furlong stakes in 1:34.20.

Sent off as the favorite, Easter Man paid $3.80 for the win. Watchmaker, a son of Thoroughbred, outran his odds of 25-1, closing for second under Carol Cedeno, with RB Madjyk Man completing the trifecta. Early pacesetter Uptown Dannys Boy, trained by Lynn Ashby, ran fourth.

Gillis was hopeful that both Burning Fleet and Easter Man would compete here on March 5 in the Amethyst Jewel.

Torrez won two races earlier on the card in addition to both Arabian features. He had high praise for Easter Man.

"Easter Man is probably just as good as Burning Fleet," said Torrez. "He might be a little bit better. Burning Fleet just came back from California and may not be ready by next month. We'll see, but we are looking forward to running Easter Man for sure."
Three Stakes Set for Saturday, February 13
Sam Houston Race Park will present three stakes on the Saturday, February 13 card. The featured races include the $50,000 Sam Houston Sprint Cup, $50,000 Sam Houston Distaff and the $50,000 Houston Turf Stakes.