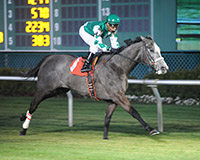 Triumph and Song
-photo by Rosslyn Yoakum/Coady Photography
Triumph and Song Wins the $50,000 Bucharest Stakes at Sam Houston Race Park
Houston, Texas (Saturday, February 8, 2014) - Tonight's feature at Sam Houston Race Park was the $50,000 Bucharest Stakes, for accredited Texas-breds at five-furlongs over the Connally Turf Course. It was an impressive performance by Triumph and Song, who was making his turf debut and won in commanding fashion.
Jockey Junior Chacaltana guided the five-year-old son of leading 2013 Texas stakes sire, My Golden Song to victory, breaking alertly from the rail and never relinquishing the lead. The final time of the five furlong turf sprint over a firm turf course was :57.55.

This was the second consecutive stakes for Triumph and Song, who was a game winner of the $50,000 Spirit of Texas Stakes here on January 18. He is trained by Karl Broberg and owned by H & H Ranch.

Broberg claimed the sprinter for $40,000 at Fair Grounds, and had no qualms about testing his charge on the lawn.

"For $50,000 in a Texas-bred stakes, you have to take a shot," said Broberg. "I think he proved he's okay on the turf."

It was an astute claim for Broberg, who gave credit to his "really smart owners", as Triumph and Song has earned $60,000 in his last two starts. Sent off as the favorite, he returned $3.20 for the win.

"It was so much fun to watch," said owner Carolyn Hanek, who spoke on behalf of the ownership group. "He has a beautiful stride and is a magnificent Texas-bred. Junior was instructed to send him, and he was marvelous. We are so pleased."
Defending champion Solar Charge, ran a game second under jockey Lindey Wade. Breeder Carolyn Barnett co-owns the seven-year-old son of Authenticate with David Alford. Trained by Ellen Williams, he ran a respectable second to Triumph and Song in the $50,000 Spirit of Texas Stakes here on January 18, and made a solid run, but could match strides with the winner.
"He tried hard and gave a good effort," said Wade.
Ishararuler with Glen Murphy in the irons, ran third for trainer Brent Davidson followed by Wagson under current leading rider, Deshawn Parker.
The Bucharest Stakes is named for the late Thoroughbred sprinter Bucharest, owned by Israel Flores and trained by Amos Laborde, who set track records at Sam Houston Race Park for the distance of five and one-half, six and seven furlongs. His lightning fast six furlong time of 1:08.88 on May 11, 1994, will no doubt stand the test of time. Flores was here this evening to present the trophy.
Maximus Wins the 7th Annual Wiener Dog Races
Houston's fastest Wiener Dogs delighted an enthusiastic crowd this evening as Sam Houston Race Park hosted the 7th Annual Wiener Dog Races. The event featured Wiener Dogs racing a distance of approximately 20 yards in between live Thoroughbred horse races.

A total of 48 dogs headed to the starting gate in trials, with six qualifiers returning for the final. Three times was the charm for Maximus, who won his first championship in his third appearance at Sam Houston Race Park. The seven-year-old dachshund is owned by James Rodriguez of Spring, Texas. He was awarded the top prize of $250 as he prevailed over Ernie and Vito.

"He didn't really train for the race," said Rodriguez. "We chased him away from the cat food, that's about it."