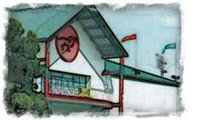 Competitive Fields for Saturday's $50,000 Houston Turf Stakes and $50,000 Sam Houston Sprint Cup at Sam Houston Race Park
Houston, Texas (Thursday, February 9, 2017) - Dog Day at the Track, featuring the always popular Wiener Dog Races, returns to Sam Houston Race Park on Saturday, February 11. The entertaining event will feature Dachshunds in all shapes and colors racing approximately 30 yards from the starting gate to the finish line between live Thoroughbred horse races. Your whole family and your four legged best friends can watch the races from the track's pet friendly Pavilion and enjoy $1 hot dogs. Post time is 6:00 p.m., with the $50,000 Houston Turf Stakes and the $50,000 Sam Houston Sprint Cup highlighting the horse racing card.
A Field of Nine to Compete in the $50,000 Houston Turf Stakes
A field of nine accredited Texas-breds will compete in the first stakes of the evening, the $50,000 Houston Turf Stakes.

Macassar Corporation's Can't Be Wrong has been installed as the 5-2 morning line choice. Trained by Danny Pish, the four-year-old son of Broken Vow captured the $50,000 Texas Hall of Fame Stakes on October 16 at Retama Park. It was his third turf win in a row. He will break from the far outside post under rider Ted Gondron, who returned to the saddle last summer after a ten-year hiatus.

Preacher Preacher, owned by Mindy Willis, Steve Bragg and Morris Thompson, will make his stakes debut on Saturday night. The six-year-old son of Preachinatthebar won a $20,000 allowance over the Connally Turf Course two weeks ago with Paul Nolan in the irons.

"We've had to figure some things out with this horse," said Willis. "He's had a tendency to run a good race, but not repeat. Now he's holding his weight and training well."

Nolan had already committed to ride Mav Master for trainer Kari Craddock, so Willis, who trains the gray turf runner, named DeShawn Parker as her rider.

"I hated to lose Paul as he is riding well for the barn," said Willis. "But there's no shame jumping over to DeShawn."

Willis is off to a very good start in the 2017 Sam Houston Thoroughbred meet with 10 wins since opening day on January 20. She is hoping Preacher Preacher can give her co-owners their first stakes win.

"Steve will be here and is really excited," added Willis. "He has been with me forever, and we've had many horses in partnership. It would be a thrill to win this stakes!"

Magna Breeze, a seven-year-old son of Magna Graduate, ran second in this stakes last year. Steve Asmussen claimed the bay gelding from trainer Mike Maker for $5,000 last July at Ellis Park. Asmussen, who also trains Magna Breeze, has given the mount to current leading Sam Houston Race Park jockey Iram Diego.

The Houston Turf Stakes will be run as the eighth race on the card. The field, in post position order, with riders is: Early Ride, Ivan Arellano; Mav Master, Paul Nolan; Preacher Preacher, DeShawn Parker; Magna Breeze, Iram Diego; Sing It Up, Jason Eads; Special Praise, Ernesto Valdez-Jiminez; Bonjour Baby, David Cabrera; Spider's Alibi, Rohan Singh' and Can't Be Wrong, Ted Gondron.
Bravura on the Comeback Trail in the $50,000 Sam Houston Sprint Cup
The $50,000 Sam Houston Sprint Cup drew a contentious mix of proven stakes winners and rising stars. The six furlong stakes will be run as the ninth race.
Asmussen sends in Union Jackson, a five-year-old son of Curlin owned by Stonestreet Stables LLC. The Kentucky-bred runner is Grade 3-placed, and made his last start opening weekend at Fair Grounds, running third in the $75,000 Thanksgiving Handicap. Iram Diego will guide Union Jackson from the rail as the 5-2 betting favorite.
St. George Stables LLC's Ishaq will attempt to keep his undefeated career record intact as he ships to Houston off two wins at Tampa Bay Downs and a two-length allowance score at Delta Downs. The four-year-old Harlan's Holiday colt is trained by Efren Loza, Jr. and will be ridden by Jesus Rios. The Florida-based jockey had a big victory at Sam Houston Race Park in 2014, capturing the $400,000 Houston Ladies Classic aboard Rose to Gold.

The Sam Houston Sprint Cup will also mark the return of Bravura, Sam Houston Race Park's 2016 Horse of the Meet. Bred and owned by Victoria Ashford of Dallas, Texas, Bravura is a four-year-old son of Early Flyer trained by Bret Calhoun. Last year, Bravura was victorious in the $50,000 Groovy Stakes and followed that with an impressive score in the $75,000 Jim's Orbit. His time of 1:10.59 in the Jim's Orbit was one of the swiftest clockings of the season, and he was the only multiple stakes winner of the meet.

Bravura underwent surgery to repair a small, non-displaced chip and returned to action on November 6 at Delta Downs, finishing sixth. DeShawn Parker will ride the chestnut colt, who drilled a bullet work of four furlongs in :48 seconds flat here on February 4.

"It was his first race off a long layoff," Calhoun said of the Delta loss. "Delta has a deep surface with a lot of kick back, and he just didn't take to it. I was not discouraged by that race. He has been training well and likes the Sam Houston surface."

The field, from the rail, is: Union Jackson, Iram Diego; Flat Black, Curtis Kimes; Meme Jo, Ernesto Valdez-Jiminez; Chifforobe, Quincy Hamilton; Mascherato, Sasha Risenhoover; Bravura, DeShawn Parker; Ishaq, Jesus Rios; Turn Up The Lights, David Cabrera; Wings Locked Up, Paul Nolan; and A M Milky Way, Ivan Arellano.
Upcoming Stakes in February
Sam Houston Race Park will host the six-furlong $65,000 Jim's Orbit and $65,000 Two Altazano on Saturday, February 18. Both are part of the Texas Stallion Stakes Series for accredited Texas-breds. Also, the Maxxam Racing Festival, which features four stakes, is set for Saturday, February 25. The featured events are the $100,000 Maxxam Gold Cup, $50,000 Jersey Lilly, $50,000 Bucharest Turf Sprint and $50,000 Texas Heritage Stakes.
Sam Houston Race Park Jockey, Trainer and Owner Standings
Iram Diego, the leading rider in the 2016 Sam Houston Thoroughbred meet, had a big week, winning nine races to take a commanding lead in the standings. Diego, who once again is riding first call in Houston for Steve Asmussen, already has 20 wins for the season. David Cabrera is second with 14 first-place finishes. Ivan Arellano and Sasha Risenhoover are tied with nine wins each, and Deshawn Parker, who was the leading rider at Sam Houston in the 2015 Thoroughbred meet, follows with eight wins.

In the trainer standings, Steve Asmussen steamrolled through the third week of the meet, winning eight races. The Hall of Famer, who has seven leading trainer titles at Sam Houston Race Park, is now in the lead with 14 wins. Mindy Wills, last week's leader, is now in second place with 10 trips to the winner's circle. Jerenesto Torrez follows with six wins, and Bret Calhoun rounds out the top four with five victories.

Asmussen is also off to a great start as an owner and shares the lead in this category with Jose Luis Espinoza. They have each won six races. Asmussen's client, Clark O. Brewster, follows with four victories.